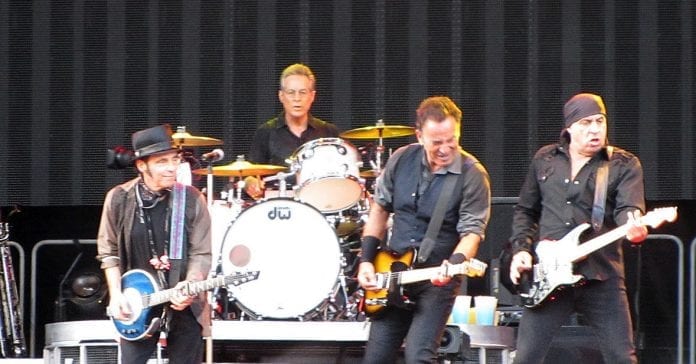 Max Weinberg, Brice Springsteen's long-time drummer, has just returned from the final dates of Bruce Springsteen and the E Street Band's "The River Tour", a 13-month endeavour that featured 89 shows and some of the longest gigs they've ever done.
"I don't really get tired, "Weinberg – who turns 66 next month – revealed to Rolling Stone of the four hour long concerts he plays with the E Street band, "It's a funny thing. I can use a sports analogy. I've met a couple of the Chicago Bulls and one of the things they invariably say is that when you're playing with Michael Jordan it's a completely unique experience than playing with someone else. He lifts everyone else's game. That's really what it is with Bruce."
Which is impressive to hear from anyone especially someone who underwent major heart surgery in 2010 – which involved a 13-hour operation and six months recovery.
"Getting that close … when I play with Bruce and the band now, I can't believe I'm so lucky to be doing this," Weinberg said. "I come from strong stock, from Russian people. The nickname 'Mighty,' I guess, is apt. I just push and push. If I can make it up to the drums, I'm going to play my hardest and do the best I can."
Weinberg has played with The Boss for over 40 years now. His 27 year old son, Jay has followed in his famous Dad's footsteps; having played with metal giants Slipknot since 2014. And Weinberg couldn't sound prouder.
"Jay is an unbelievable drummer," Max told Rolling Stone. "Two years in a row he's been named the best metal drummer out there. He'll be 27 this year, and he's just a killer drummer and a great kid. It's so much fun for me to see him play. He's a virtual artist."
"I had nothing to do with it – he taught himself," he added.
Jay actually played with the E Street Band in 2009 because his dad had previous engagements with his other job as leader of the house band on The Tonight Show With Conan O'Brien. He's since covered for his dad on other occasions.
"The other night we got an audible for 'Radio Nowhere'," Max said. "I never play that without thinking of Jay – everyone says that Jay just kicked my ass on that song, and played it so much better than I did," he proudly admitted, "I stole a lot of the licks he used on that song."
Weinberg also shared his plans now The River Tour's complete, "Occasionally, I play with my 15-piece Count Basie/Buddy Rich–style band, playing the kind of music I loved as a kid", he said, "I indulge my hobby of real-estate investing quite a bit and spend most of my time now getting off on my son's career more than mine."
Picture Credit: Bob the Lomond