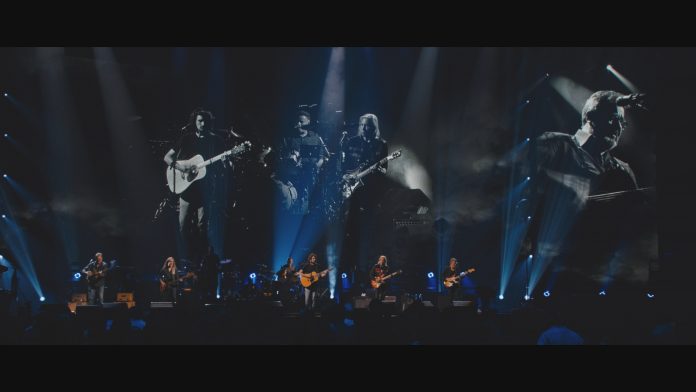 Eagles fans can get a first listen of the new "Eagles Live From The Forum MMXVIII" live album tonight at 10pm on Radio Nova's Friday Night Live.
The album will be repeated on Sunday night at 9pm and all weekend you have the chance to win the new release on vinyl thanks to Warner Music.
Back in September 2018, the Eagles featuring Don Henley, Joe Walsh, Timothy B. Schmit, Vince Gill and Deacon Frey headlined three sold-out evenings at The Forum in Inglewood.
Highlights from those concerts were recorded on 14 4K cameras and compiled for "Eagles Live From The Forum MMXVIII" , which will be available on CD, Blu-ray, vinyl and streaming on Friday, Oct. 16.
The set includes the band's biggest hits like "Hotel California," "Take It Easy," "Desperado" and selections from members solo careers including Walsh's "Rocky Mountain Way," Henley's "Boys of Summer" and Gill's "Don't Let Our Love Start Slippin' Away."
A super deluxe edition will also be available and all titles can be ordered now HERE
This November 7th will mark the 40th anniversary of the Eagles' first live album — which had five songs recorded at the L.A. Forum — Eagles Live.
The album, which served as a live greatest hits, mixed cuts from the band's 1976 shows at the Forum with 1980 tracks culled from the band's then-recent shows at the Long Beach Arena and Santa Monica Civic Center.
Eagles Live peaked at Number Six on the Billboard 200 albums chart.
Only one single was released from the set — an acoustic vocal workout on Steve Young's "Seven Bridges Road." The song topped out at Number 21 and marked the Eagles' final Top 40 hit until 1994's "Get Over It" from the band's Hell Freezes Over reunion project, which went on to reach Number 31.
Eagles retain an appeal that transcends both generation and genre, cementing the band's role as enduring musical icons. As the best-selling American band of the '70s, and one of the top-selling acts of all time, the Eagles have sold more than 150 million albums worldwide, scored six #1 albums and topped the singles charts five times. The band's Their Greatest Hits 1971-1975 and Hotel California are the #1 and #3 best-selling albums of all time according to the RIAA, certified Platinum 38x and 26x respectively. They have won six GRAMMY® Awards, were inducted into the Rock & Roll Hall of Fame in 1998, in their first year of eligibility, and received the Kennedy Center Honors in 2016.
Listen to their performance of "Hotel California"
Full Tracklisting
1. SEVEN BRIDGES ROAD
2. Joe Walsh: "How ya doin?"
3. TAKE IT EASY
4. ONE OF THESE NIGHTS
5. Don Henley: "Good evening, ladies and gentlemen"
6. TAKE IT TO THE LIMIT
7. TEQUILA SUNRISE
8. IN THE CITY
9. Timothy B. Schmit: "Hey, everybody, that's Joe Walsh"
10. I CAN'T TELL YOU WHY
11. NEW KID IN TOWN
12. Don Henley: "Just want to thank all of you…"
13. HOW LONG
14. Deacon Frey: "Hello, everybody…"
15. PEACEFUL EASY FEELING
16. OL' 55
17. LYIN' EYES
18. LOVE WILL KEEP US ALIVE
19. Vince Gill: "How about a nice hand for California, man…"
20. DON'T LET OUR LOVE START SLIPPIN' AWAY
21. THOSE SHOES
22. ALREADY GONE
23. WALK AWAY
24. Joe Walsh: "Is everybody OK?"
25. LIFE'S BEEN GOOD
26. THE BOYS OF SUMMER
27. HEARTACHE TONIGHT
28. FUNK #49
29. LIFE IN THE FAST LANE
30. HOTEL CALIFORNIA
31. ROCKY MOUNTAIN WAY
32. DESPERADO
33. THE LONG RUN