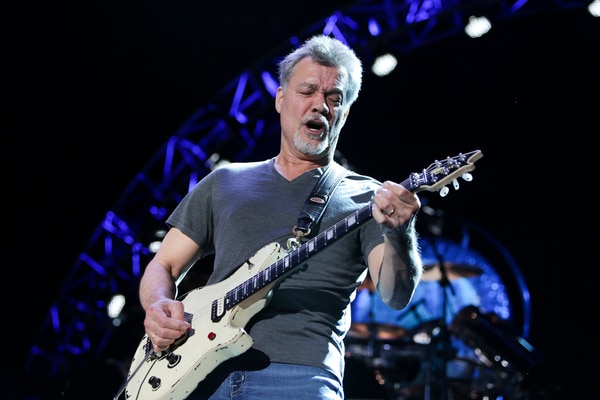 Actress Valerie Bertinelli has written about her ex-husband Eddie Van Halen's final moments and final words.
Bertinelli was married to Van Halen from 1981 to 2007.
In a new memoir titled Enough Already: Learning to Love the Way I Am Today, Bertinelli writes about her relationship with the legendary rocker, who passed away from throat cancer on October 6th, 2020 aged 65.
Along with their son Wolfgang, Bertinelli was at her ex-husband's side in hospital during his final weeks. Also present was Van Halen's second wife Janie Liszewski and his brother Alex Van Halen.
Bertinelli has now revealed Eddie's final words to herself and Wolfgang.
"'I love you' are the last words Ed says to Wolfie and me," Bertinelli writes in her new book. "And they are the last words we say to him before he stops breathing."
Bertinelli also talks about her enduring love for her ex-husband.
"I can't explain the feelings Ed and I had for each other," she writes. "Who really knows had he not died. I doubt it. I loved him more than I know how to explain and there's nothing sexual about it. It was more than that. And Ed and I understood that. There is no greater love than what we had between the two of us and with that, we made this beautiful son."
Describing their marriage as a mix of "love, anger, frustration and friendship," the actress disputes the public perception of herself and Van Halen.
"The bad boy rock star and America's sweetheart but privately, Ed wasn't the person people thought he was and neither was I," she writes.
Van Halen's addiction issues are also addressed in Bertinelli's memoir.
"I hated the drugs and the alcohol but I never hated him," she writes. "I saw his pain."
In October of last year a plaque was erected in Van Halen's hometown of Pasadena, California to honour his memory.
$7,000 was raised to fund the memorial through GoFundMe.
On the GoFund Me page, the organisers said the memorial would "honour the early days of Van Halen and the importance of their performances at the Pasadena Civic in the 1970s."
The plague is located close to the Pasadena Civic Auditorium, where Van Halen played many times during their formative years in the 1970s. It features the famous Van Halen logo.
Eddie's son Wolfgang posted a tribute to his father on social media on the anniversary of his passing.
"Trying my best here without [Eddie], but it's really fucking hard," he wrote. "You fought so hard for so long, but you were still taken away. It's just so unfair. I'm not OK. I don't think I'll ever be OK. There's so much I wish I could show you. So many things I wish I could share with you. I wish I could laugh with you again. I wish I could hug you again. I miss you so much it hurts. I love you with all of me heart, Pop. Watch over me."
— Wolf Van Halen 🐺 🚐 🙌 (@WolfVanHalen) October 6, 2021