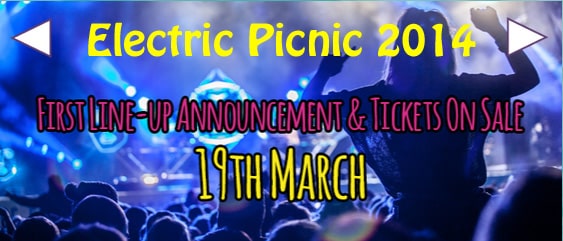 Its back, and it looks to be bigger than ever, and what's even more appealing to the Electric Picnic desperado is that this year the tickets are due to be the cheapest they have ever been (provided you have been a loyal Electric Picnic attendee).
The Electric Picnic will be returning to Stradbally Hall, Co. Laois on Friday the 29th of August 2014 to the Sunday 31st of August. The Picnic has had a loyalty scheme where people who have frequented the concerts will be able to avail of discounts on their tickets and this year is no different with a range of discounts available depending on your previous attendance at the event.
The way it goes is that if you have been to two or less Electric Picnic's you will be able to avail of a discount which will see the price of your ticket be €174.50. However if you have been to three or more Electric Picnic's you will be able to avail of the full discount which will see your tickets cost €154.50, which by all accounts is excellent value and credit where credit is due is an excellent deal for people that have been loyal to the Picnic in the past. This loyalty discount will be available from the 19th of March and the 18th of April at midnight. The single tickets for the Sunday gig will be on sale for €90. For more information on how to claim your ticket discount you can visit the discounts page on the EP site here.
After the 18th of April the tickets for the Picnic will be €194.50 until the 4th of July and the tickets will go up to €229.50. Loyal fans of the Picnic will be receiving emails from Ticketmaster to let them know they will be eligible for the discount based on their past appearances at the events. Like years past the installment system is still in place and people can pay for their tickets in installments over the course of the next few months.
Tickets will be limited to 2 per person for the special discount. If you have been to more events that you have been credited for and you have proof of attendance from the past events you can use these as evidence of attendance. There are a list of proof's that have been listed on the Electric Picnic website which you can see below.
____________________________________________________________________________________________________________________
For those that have attended any 2 or less Picnics only one type of proof mentioned below will be required should you wish to request a code. 
– Email address on booking
– Home address on booking
– Phone number on booking linked to same email
– Bank statement showing debit for ticket (Security details etc. can be blanked out so just the name/address and Electric Picnic purchase show).
– Photos of customer on site which indicate different year e.g. if two photos then they should have changed slightly in appearance, hair style, age and so forth.
– Screen shots of Facebook or other social media showing messages or pictures supporting the claim.
– Wristbands or ticket stubs
– Official Programmes or year marked merchandise.
– Travel or local (to festival) accommodation receipt (dated).
Customers wishing to purchase from Ticketmaster outlets should bring along any of the above 3 forms of proof in order to avail of the discount.
____________________________________________________________________________________________________________________
Ticket Price Info
Electric Picnic 2014 ticket prices
Between 19th March – 18th April (Midnight)
€154.50 if you can prove you've been to 3 or more Picnics
€174.50 if you can prove you've been to the Picnic once/twice before
€194.50 if you haven't been before
April 19th – July 4th(Midnight)
€194.50 weekend tickets
After July 4th midnight
€229.50 weekend tickets
Sunday Tickets
€90.00
Please note that there is no re-admission on a day ticket. Please ensure you have everything you need with you when you first enter the festival site.
Campervan Tickets
€60
Instalment Plans
3 or more Picnics
First Charge €54.50 + service charge // Second Charge €50 // Third Charge €50
1 or 2 Picnics
First Charge €59 + service charge // Second Charge €59 // Third Charge €56.50
Not been before – Early Bird
First Charge €65 + service Charge // Second Charge €65 // Third Charge €64.50
Phone and Internet bookings are subject to 12.5% service charge per ticket (Max €6.10)
________________________________________________________________________________________________________
Full Line Up List
For more information on this year's Electric Picnic you can visit the site here.