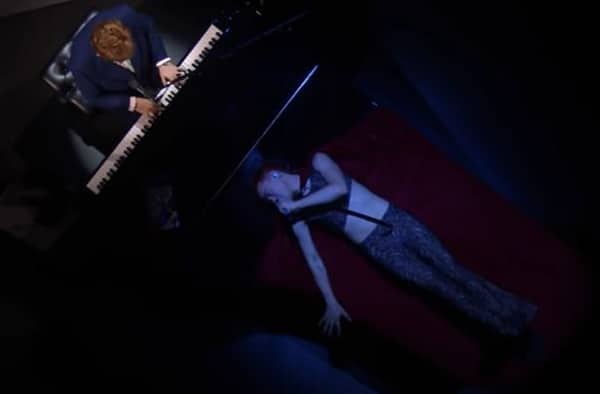 Elton John and Olly Alexander performed a cover of Pet Shop Boys hit, It's A Sin at the BRIT Awards. The pair took to the stage of the O2 Arena and gave their performance of the 1987 hit single, the second #1 single on the UK Singles Chart for the synth pop duo. You can watch footage of the performance and hear Elton John and Olly Alexander's recorded rendition of the cover below.
It was quite a performance, with the cover starting out as a humble piano ballad from Elton John, before transforming into a club track, accompanied by a dance routine from Alexander. Dancers and backing singers appeared behind the artists as confetti shot into the air and screens displayed brightly coloured graphics for the extravagant show.
The track also inspired the title of Russell T Davies' recent drama, which stars the former Years and Years singer. The Channel 4/HBO series documents the impact of the AIDS crisis on a community of young gay men in London in the 1980s.
When introducing the pair to the stage, Elton John's husband, David Furnish compared the reaction to the coronavirus pandemic to that of the AIDS outbreak. He said people with HIV and AIDS "were treated with ignorance, fear, shame and stigma". Furnish believes that silence "allowed AIDS to grow into the greatest disease affecting our planet. But we fought back".
The track has also been released as a studio version of the cover, with proceeds going to the Elton John AIDS Foundation. It was produced by Stuart Price, alongside the Pet Shop Boys, and is available now to stream and download.
Recently, in the battle against torrid online trolls, Elton John called for people to face accountability for the hatred posted online. Speaking to Zane Lowe on Apple Music, the Rocketman singer criticised the largely anonymous hate-spreaders for making the world "really divided and really cruel".