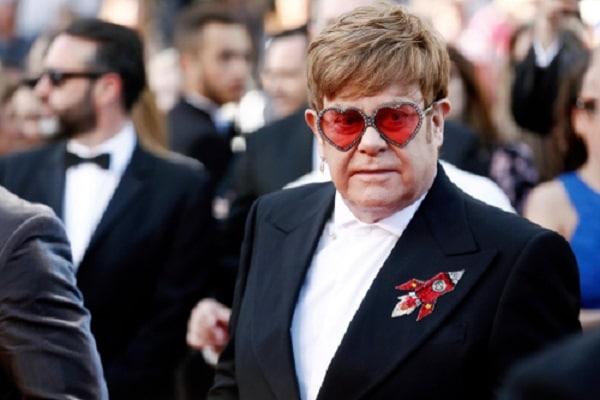 Elton John releases a new eight disc box set on November 13th entitled 'Elton: Jewel Box'. The new box set is filled with fan favourites, B-sides, rarities, and unreleased songs. In a new interview with Rolling Stone Magazine, the rocketman singer talks about life during lock down and previews the new release.
Like most of us, Elton John has been spending more time at home with loved ones. For musicians, this enforced lock down has given them more time with their families that they usually wouldn't have due to recording or being on the road.
"I've just been catching up with my family and spending the time with my two boys and David. To be honest with you, it was a little strange at first. But I'm really lapping it up."
The new box set is curated by Elton John and his lyricist Bernie Taupin. Speaking about the release and his relationship with Taupin, the singer said "I didn't want to put out outtakes from just the last couple of albums. This is a real historical album. I wanted it to be accurate. I had to go back and listen to stuff. It was sweet. It was a very pleasant reminder that Bernie and I saw together after 54 years, or whatever it is, how far we've come and how sweet the journey has been".
The box set has many songs that John has written for other artists. He recalls the song 'I Can't Go On Living With Out You'. It was for Lulu to sing at Eurovision. "Looking back, it wasn't as bad as I thought it was".
John wasn't a fan of the songs he wrote for other people. Speaking about the track 'The Tide Will Turn For Rebecca' he said "That was not a song I would have wanted to sing myself. They were songs we wrote for other people that were completely ignored because they were awful."
Elton John can now look back on these old songs in a more favourable manner. There are songs in this new box set that he loves and hasn't performed live or only on a few occasions.
"I wanted to put two albums of deep cuts of songs I really love and want to perform. I've performed a couple of them, but only a couple of times. When I do finish this world tour, if I do do a concert again, it will similar to what Kate Bush did at the Hammersmith Apollo. She came on and played for three weeks to 4,000 people a night." He went on to add his admiration and desire to play songs like 'Original Sin' and 'American Triangle'.
The new box set is available to purchase here. It includes many options for fans of CDs or vinyl. There are extensive notes and running commentary from Elton John included in the box set. It is the perfect Christmas gift for any Elton John fan. Check out the previously unreleased track 'Sing Me No Sad Song's below.