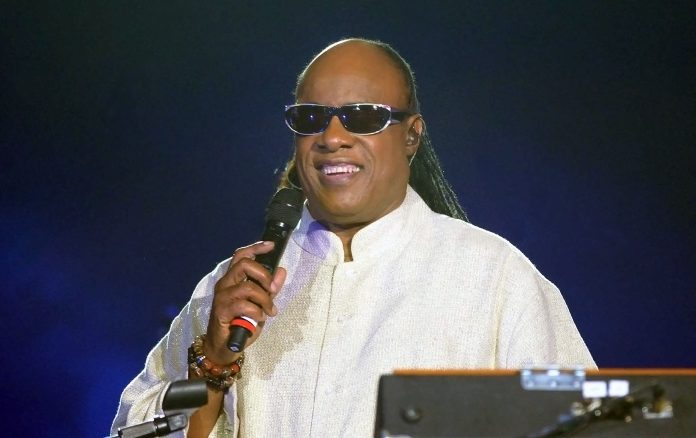 Like Bruce Springsteen, Stevie Wonder has shown his support for Joe Biden. The R and B legend performed at a drive in rally for the presidential nominee. At the rally, Stevie Wonder performed new songs live for the first time in 15 years.
Wonder started his set with the classic track 'Higher Ground'. He then went on debut 'Can't Put It in The Hands of Fate' and 'Where Is Our Love Song', both songs were released last month. This marks the first time in 15 years that Wonder has played new songs live. He finished off his set with iconic song 'Superstition'. You can watch his set and highlights from the rally below.
"The only way we're going to win this fight, a fight against injustice, is by voting. We must vote justice in and injustice out" said Wonder to the crowd.
Wonder went on to echo sentiments shared by many when he described the election as "the most important one of my lifetime."
"When I'm in California hearing about a group of people that are trying to kidnap and murder the governor of this state, excuse my language, but that's some bullshit. Unacceptable." Wonder said this in reference to the foiled plot by right wing militia groups to kidnap democrat Michigan governor, Gretchen Whitmer.
The singer also rejected Donald Trump's plan to make Juneteenth a federal holiday. Also known as Freedom Day or Liberation Day, Juneteenth celebrates the emancipation of those who were enslaved in America. Instead of a federal holiday, Wonder suggested that Trump offer reparations "for the work that we've all done over the last 400 years, unpaid."
Last month, Wonder announced he was leaving Motown Records after 60 years. "Even though I have left Motown, I never leave Motown. That's Detroit. So I'm sure that we can figure out how we can do some things at Motown" said Wonder.
He has set up a new label called So What The Fuss Records in collaboration with Republic Records. Radio Nova reported on the groundbreaking news last month and you can read more about it here.
Talking about his new song 'Can't Put It in The Hands of Fate', Wonder said "When I first wrote it, it was about a relationship. And then I was thinking about where we are in the world and I was thinking … this craziness is unacceptable. We're not going for it anymore. Change is right now. We can't put it in hands of fate….. We can't put voting in the hands of fate.'
His new songs are a return to politically motivated music. Wonder last wrote political songs in the 80s with tracks such as 'Happy Birthday' and 'Front line'.