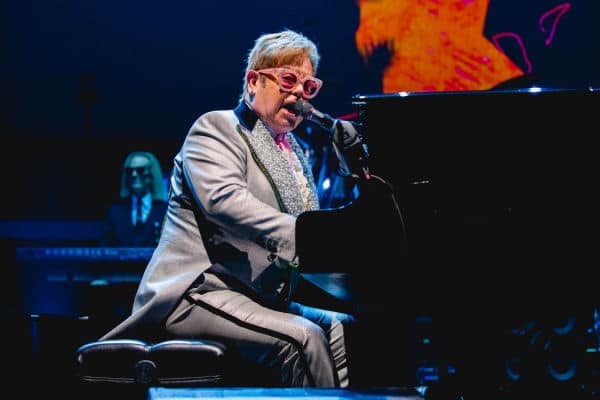 Elton John's 'Farewell Yellow Brick Road Tour' has become the highest grossing tour of all time, according to Billboard.
The tour which started in September 2018, has played 278 shows so far, across venues in North America, Oceania and Europe.
Elton John has also performed at several stadiums in each continent over the past year.
The 'Farewell Yellow Brick Wall Tour' has grossed more than any other tour in Boxscore's history. It has also become the first tour to surpass the $800 million mark, according to Billboard's archives.
Drawing in $817.9 million (£664.4 million), Elton John's tour has also surpassed Ed Sheeran's mammoth 'The Divide Tour' of 2019, which grossed $776.4 million (£630.5 million).
Last December, the music icon also confirmed plans to perform at this Summer's Glastonbury Festival as part of his final ever tour.  More here.
Lyricist Bernie Taupin Confirms Memoir Plans
This tour is to cap off decades of huge success for Elton John, whose career kicked off in 1967, when he and lyric writer Bernie Taupin responded to an NME advert looking for songwriters.
Taupin is renowned for writing lyrics for many Elton John hits, including 'Rocket Man', 'Tiny Dancer', 'Candle In The Wind', 'Goodbye Yellow Brick Road', and others.
Last week, the lyricists also announced plans to release his upcoming memoir, which will arrive in September.
The memoir titled Scattershot: Life, Music, Elton & Me', has been described as "an exciting, multi-decade whirlwind told in a non-linear yet grounded narrative". 
"Hopefully, there's something in it for everybody", Taupin said of the memoir. "It's contemplative, self-assessing and attempts to stay off the beaten path in not regurgitating what's already been written". 
More on this from Nova here.