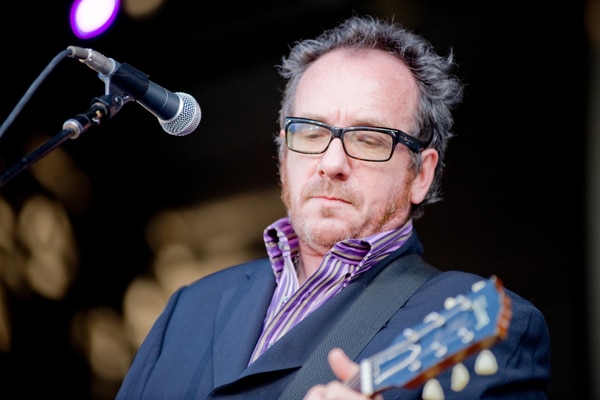 Veteran singer-songwriter Elvis Costello is set to take to the road once again with his band The Imposters.
The autumn tour of the US will be his first tour since the beginning of the pandemic.
The tour will begin with an October 13th show at the Soundstage of Graceland in Memphis, Tennessee. It wraps up in Oakland, California on November 14th. The tour includes Costello's performance at this year's New Orleans Jazz & Heritage Festival.
Costello is famously a jazz lover and is married to jazz pianist/vocalist Diana Krall. In January he took part in a virtual concert to help save the iconic New York jazz venue Birdland.
Elvis Costello & The Imposters Announce Fall Tour!

Elvis Costello & The Imposters will hit the road once more this October, after more than a year without concerts, in a show entitled "Hello Again." For Tour Dates & Ticket Information Please Visit – https://t.co/ihKfb0Uhz1 pic.twitter.com/OjXSUAoKYH

— Elvis Costello (@ElvisCostello) July 20, 2021
The Imposters – which also includes musicians Steve Nieve, Pete Thomas and Davey Faragher – were in the middle of a 2020 UK tour when the pandemic put a halt to live performances. Rather than picking up where they left off in the UK, Costello and his band have opted for a US tour.
It's probably not coincidental that the tour is centred around some of America's most iconic musical hotspots, including Graceland, the former home of the legendary singer who inspired Declan Patrick McManus's more famous stage name.
Titled Hello Again, the tour will see Costello mine his 44-year-old career, along with the live debuts of songs from his 2020 album Hey Clockface. Songs from a future album are also rumoured to feature on the setlist. The tour's official press release teases "the first stage performances of songs from the future, as the band time-travel in all directions."
Costello formed The Imposters in 2002, recruiting Cracker's bass player Davey Faragher to what was otherwise the Attractions lineup.
If you can't make it to the US, Costello has a new album dropping on September 10th.
Titled Spanish Model, the album reimagines his 1978 album This Year's Model – in Spanish! The album sees Costello collaborate with Sebastian Krys, the Argentinian producer known for his work with Latin acts.
"Part of the fun of this project is its unexpected nature," Costello said of Spanish Model. "Although, I think people in my audience that have been paying attention are pretty much used to surprises by now."
"When Elvis told me the idea, it took me about 15 seconds to answer," said Krys. "I have been in so many situations where I was trying to turn Latin artists onto Elvis Costello's music. The feedback I heard most often was 'I love it. I wish I knew what he was saying.' Spanish Model is an opportunity to turn an entire side of the world onto this great record and through these voices, get these ideas out. Lyrically, This Year's Model is still relevant today, what the songs have to say and how they say it."
Elvis Costello & @SebastianKrys remodel This Year's Model, into Spanish Model. Featuring The Attractions' original instrumental performances with newly recorded vocals by Latin pop & rock artists singing Costello's lyrics translated & adapted into Spanish! https://t.co/vwFrgKuiVE pic.twitter.com/6y1kcN75wf

— Elvis Costello (@ElvisCostello) July 16, 2021
Earlier this year Costello released an EP with six French language versions of tracks from Hey Clockface.