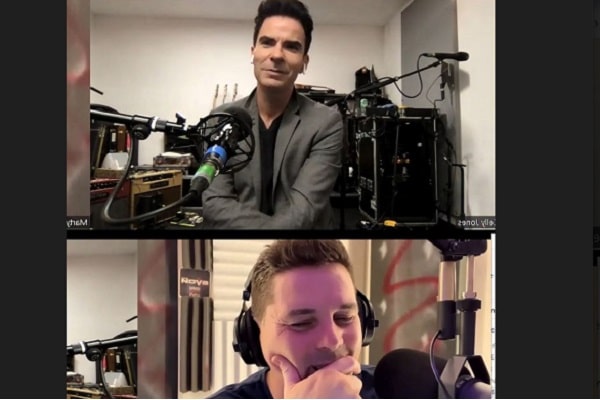 Would you like to listen to the article instead of reading it?
While he is globally renowned for being the frontman for Welsh rockers Stereophonics for 3 decades, singer Kelly Jones is very much enmeshed in his side project.
Jones' project named Far From Saints, sees him join forces with Dwight Baker and Patty Lynn of Austin band The Wind And The Wave.
The band have already released a debut album of the same name, as well as a new tour.
Ahead of releasing the album back in June, Far From Saints' shared their debut single 'Let's Turn This Back Around', which had arrived in January. More on that here.
Jones Speaks To Marty
The tour kicks off on 12 November, with a show at Dublin's Vicar Street, and will also see Jones' Far From Saints perform at venues across London, Manchester, Glasgow, along with his native Wales.
Pleased to announce the supports in Nov and Dec will be:@mayalaneuk (Birm, Lland, Glasgow, Newc, Edinburgh, Manch, Nott'ham & Bexhill)@ediebens (Reading, Swans, Frome, Bath, South'ton, Camb & Cardiff)@leahweller (Guild & London) @garethdunlop (Belf)@club_remedy (Dublin) pic.twitter.com/t3zyVV0FUe

— Far From Saints (@farfromsaints) October 20, 2023
Ahead of these shows, Kelly Jones had a chat with our very own Marty Miller, which saw him offer music fans hints at what to expect at these shows, as well as his excitement at performing these intimate shows.
More on this below.
Jones also explained to Marty about his excitement at Far From Saints performing their own headline show, having previously supported acts like Paul Weller on stage.
Despite being fully focussed on this project, Kelly Jones has once again assured listeners that Stereophonics will reunite in the future.
Jones had spoken about the future of Stereophonics back in January.
"Phonics are still together despite his latest venture", he stated previously.
"There's no breaking up with the band or anything," he insisted. "For me, after 25 years of doing all our work, it's like, I wanna show other sides of what I would like to try creatively".
"But, there's no fear that [Stereophonics are] not going to come back and do what we do," he added. "You know, I've got a bunch of songs I've got for that but I'm keeping them in the back pocket until we're ready to do it again".