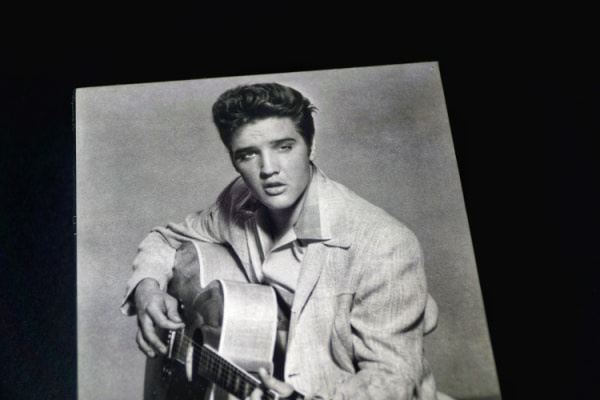 Would you like to listen to the article instead of reading it?
A cherry eyed guitar, which was used by Elvis Presley for his iconic 1968 comeback special, has been valued as the world's most expensive instrument at $5 million.
Following a seven year hiatus which saw him star in several films, Elvis Presley returned for his '68 Comeback Special, which attracted a stunning 42% share, becoming broadcaster NBC's highest-rated show for that year, a show which relaunched the music legend's career.
The cherry-eyed guitar was used by Elvis for that show, along with the recording of his acclaimed album 'From Elvis To Memphis', which included hits such as 'Suspicious Minds', and 'In The Ghetto'.
With so much history behind this guitar, the instrument also looks set to overtake Kurt Cobain's MTV Unplugged Acoustic, which is currently valued at £4.85 million.
Top 10 Most Expensive Guitars Sold At Previous Auctions
10 – David Gilmour's 1954 Fender Stratocaster (GBP £1.49 million)
9 – Jerry Garcia's Wolf Guitar (GBP £1.57 million)
8 – Peter Green's "Greeny" Les Paul (GBP £1.65 million)
7 – Jimi Hendrix's "Izabella" 1968 Fender Stratocaster (GBP £1.65 million)
6 – John Lennon's Gibson J-160E (GBP £1.9 million)
5 – Reach Out to Asia Fender Stratocaster (GBP £2.23 million)
4 – Eddie Van Halen's "Hot For Teacher" Kramer (GBP £3.16 million)
3 – David Gilmour's Black Strat (GBP £3.28 million)
2 – Kurt Cobain's "Teen Spirit" Fender Mustang (GBP £3.7 million)
1 – Kurt Cobain's 1959 Martin D-18E (£4.85 million)
Speaking of Elvis, the late singer's private jet was also sold at a previous auction for $260,000. More on this from Nova here.
Official Cause Of Death Confirmed For Elvis' Daughter Lisa Marie Presley
Earlier this Summer, the cause of death for Lisa Marie Presley was officially confirmed. Lisa Marie was the only daughter of Elvis and Priscilla Presley.
According to a report conducted by the LA Medical Examiner, Lisa Marie Presley died from a "sequelae of a small bowel obstruction".
This is defined as intestinal obstructions and complications. These cut off the blood supply to the intestine, potentially leading to life threatening results.
You can also find out more on this story from Nova here.