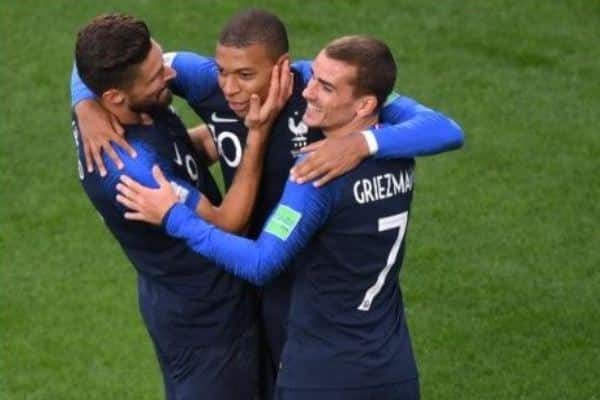 France have sealed their spot in the last 16 of the FIFA world cup with a narrow 1-0 victory against Peru, who, despite their bravey and passion as well as intesne supporter are eliminated from the World Cup.
Teen sensation Kylian Mbappe's first-half goal was the difference between the sides. The PSG youngster became became France's youngest ever goalscorer at a major tournament.
Unfortunately for gutsy Peru, a second defeat ends their hopes of reaching the next round, even if the adventure off the pitch with their army of supporters will go on for the next game at least.
The inclusion of Olivier Giroud gave France a target that was perfect for Antoine Griezmann and Mbappé to buzz around.
They put Peru under pressure with several chances which all originated from Giroud's knock-downs and build-up play.
The game's decisive moment came eleven minutes from the end as Paul Pogba won the ball off Guerrero in the centre of midfield and played a clever pass for Giroud, whose effort took a looping ricochet off Alberto Rodríguez.
The ball spun, almost in slow motion, and as Peru's stranded goalkeeper could only helplessly watch the trajectory Mbappé arrived to tap into the empty net.
100% record maintained ✅
Spot in the knock-outs secured ✅

Congrats, @FrenchTeam! #FRAPER pic.twitter.com/Xqc2SIfnM6

— FIFA World Cup (@FIFAWorldCup) June 21, 2018
What a day for @KMbappe – he's the @Budweiser #ManoftheMatch for #FRAPER! pic.twitter.com/3wSlYVGyIT

— FIFA World Cup (@FIFAWorldCup) June 21, 2018
Key stats:

👉 @KMbappe is the first #FRA player to have been born after their World Cup victory in 1998 and score a #WorldCup goal

👉 #PER can no longer progress out of Group C in this year's tournament.#FRAPER pic.twitter.com/9J28KrEWy9

— FIFA World Cup (@FIFAWorldCup) June 21, 2018
Good viewing for #FRA fans! #FRAPER pic.twitter.com/cXoWFA8Bio

— FIFA World Cup (@FIFAWorldCup) June 21, 2018