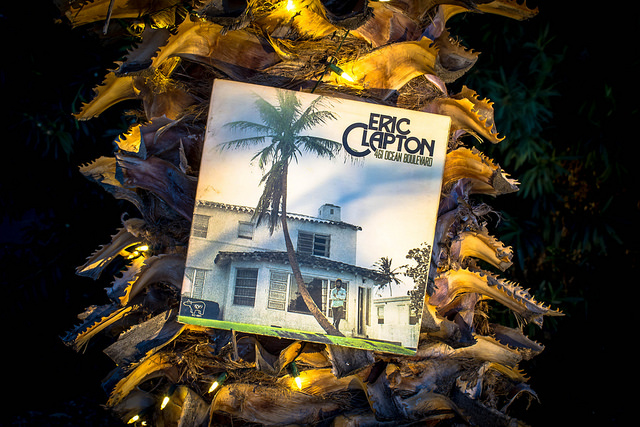 Boulevard is the second studio album by English musician Eric Clapton, released in July 1974 on the RSO label after the success of "I Shot the Sheriff".
The house featured on the album cover is 461 Ocean Boulevard in the town of Golden Beach, Florida near Miami where Clapton lived while making the album.
In 2004, a remastered two-disc "deluxe edition" of 461 Ocean Boulevard was released. The second disc included in the packaging featured a live concert which was recorded at the HMV Hammersmith Apollo (formerly the Hammersmith Odeon). Disc One also has additional studio jam sessions.
After overcoming his heroin addiction, Eric Clapton was given a demo tape by Carl Radle – former bassist for Derek and the Dominos – with songs performed by Radle with keyboardist Dick Simms and drummer Jamie Oldaker. Clapton manager Robert Stigwood arranged for Clapton to record in Criteria Studios in Miami, with Radle, Simms, Oldaker, and record producer Tom Dowd. Stigwood also paid for Eric to live at a rental house at the address 461 Ocean Boulevard in the town of Golden Beach near Miami.
When Clapton started recording at Criteria, he hired guest vocalist Yvonne Elliman and guitarist George Terry as full-time members of his group. During this time, Terry played the album Burnin' by Bob Marley and the Wailers, inspiring the band to record a cover version of the song "I Shot the Sheriff". Initially, Clapton did not want to release the song on 461 Ocean Boulevard; however, the other band members persuaded him to include it. The song was released as a single and became Clapton's only #1 on the Billboard Hot 100.
Stephen Thomas Erlewine of Allmusic described the album as focused and consistent with Eric Clapton's aesthetic. For the Blender magazine review of the album's 2004 Deluxe Edition, Jon Pareles called the Eric Clapton of the Cream-era superior to the Clapton of the 461 Ocean Boulevard-era, due to what Pareles describes as strained singing on 461 Ocean Boulevard. Pareles also described Clapton's remake of "I Shot the Sheriff" as a copy with no original arrangement; he praised the song "Let It Grow", but criticized it for sounding too much like "Stairway to Heaven". Robert Christgau called the album honest and groundbreaking for Clapton, but praised the cover songs as the best part of the album. Ken Emerson at Rolling Stone called Clapton's guitar work unnotable, and criticizes Clapton for hiding behind his other musicians, none of whom—with the exception of Jamie Oldaker— were even that good. Emerson also questions Clapton's decision to play a dobro on the album, but calls "Let It Grow" a highlight; Emerson also considers Clapton's re-arrangement of "Motherless Children" to be too upbeat for a somber song. Despite this, Rolling Stone ranked the album at 409 on its list of the 500 Greatest Albums of all time list.
Track list
Side One
"Motherless Children" (Traditional; arr. by Eric Clapton, Carl Radle) – 4:55
"Give Me Strength" (Clapton) – 2:51
"Willie and the Hand Jive" (Johnny Otis) – 3:31
"Get Ready" (Clapton, Yvonne Elliman) – 3:50
"I Shot the Sheriff" (Bob Marley) – 4:30
Side Two
"I Can't Hold Out" (Elmore James) – 4:10
"Please Be With Me" (Charles Scott Boyer) – 3:25
"Let It Grow" (Clapton) – 4:57
"Steady Rollin' Man" (Robert Johnson) – 3:14
"Mainline Florida" (George Terry) – 4:05
Photo Credit: Kenneth Hagemeyer