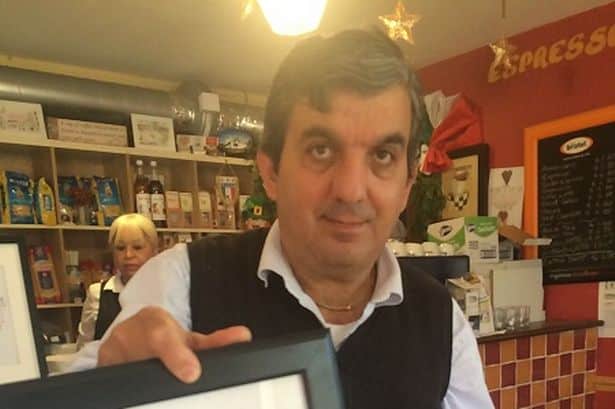 Tommaso Spennato has become a cult figure in Greystones, Co Wicklow, due to his unpredictable outbursts and Super Nazi style, Basil Fawlty-esque rants in Caffe Delle Stelle.
And now according to the Irish Daily Star and buzz.ie, the eccentric owner of a cafe has hit back at customers who branded him "rude and unwelcoming" — by issuing them with lifetime bans!
Tommaso, who's originally from Puglia in southern Italy, told PJ & Jim on Morning Glory he's a really nice guy but just NEVER smiles for the customers.
CLICK PLAY BELOW TO HEAR THE FULL CHAT 
Despite the offence taken by some patrons he still sits at #12 out of 27 restaurants in Greystones rated on Tripadvisor.
Caffe Delle Stelle's award-winning coffee and breakfasts have also led to scoop the town's coveted 'best coffee' award six years in a row as well as the Greystones 'Breakfast of Champions' gong just this month from the Greystones Guide.
While the cafe's overall rating on TripAdvisor is 4 star, one diner has described the restaurateur as "extremely rude", while another recalled how he "complained about our order to our faces".
Interestingly and perhaps fittingly, the Church Road eaterie is situated across the street from the fashionable Happy Pear!