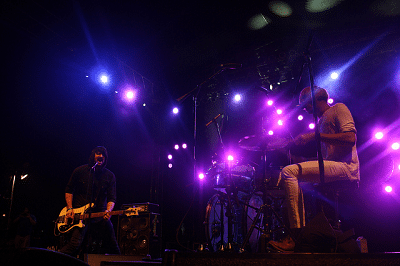 Death From Above 1979 have unveiled a new music video for their lead single titled 'Trainwreck 1979.'
The new song is a belter, the video not only isolates the energy of the track but also manages to capture the energy of the band performing live.
If you're not sure you know Death From Above 1979, chances are you do recognise their iconic album cover, featuring the two lads with elephant trunks.
The Canadian duo of Sebastien Grainger and Jesse F. Keeler, released their debut album ten years ago in 2004, but split up in 2006. Three years ago they announced their reunion and their comeback second album The Physical World.
'Trainwreck 1979' is directed by German filmmaker Alexa Karolinski and follows a day in the life of a Death From Above 1979 fan. The footage follows a female fan attending a Death From Above 1979 concert and skateboarding around her estate.
The director also focuses on the electric live performance of the band as they ooze passion, sweat and energy, pounding out the rocking tune.
Turn it up loud and watch 'Trainwreck 1979' below.
The new album is produced by Dave Sardy, who has previously worked with Red Hot Chili Peppers, LCD Soundsystem and Oasis. Grainger told NME in a recent interview that the band was itching to release The Physical World partly because fans and journalists have been pestering them about album two since You're a Woman, I'm a Machine.
The group are playing three gigs in the UK but unfortunately they have no Irish dates scheduled on their European tour.
The Physical World is out now.
Track list:
Cheap Talk
Right On, Frankenstein!
Virgins
Always On
Crystal Ball
White Is Red
Trainwreck 1979
Nothin' Left
Government Trash
Gemini
The Physical World