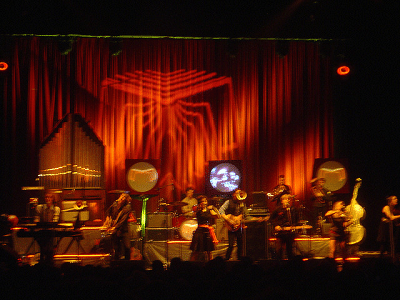 Arcade Fire frontman Win Butler has discussed the future of the band, claiming that there's no chance of them breaking up.
Butler told Canadian radio that the group were "in their prime" and there's no chance of them calling it a day as they're currently 'firing on all cylinders'.
A fair portion of the chat was dedicated to discussing their album Reflektor, working with David Bowie, and the band's relationship with Bruce Springsteen.
In the Interview with Canadian sports talk show Melnick in the Afternoon, Butler said: "I never want to put out something that's not great. This last tour we did is the best, it's the best shows we've ever played, so I feel like we're kind of right in our prime right now — so I'm not really thinking about retirement yet 'cause we're kind of like firing on all cylinders at this point."
Butler said there were similarities between himself and LCD Soundsystem's James Murphy, who recently disbanded his group, but the Canadian frontman said he has no intention of wrapping up his band.
Listen to the full Win Butler interview here.
Arcade Fire are just coming off their massive Reflektor world tour. Hitting almost every corner of the globe, the tour developed a tradition of the band covering local artists of the cities they played in.
Earlier this summer, Win Butler hinted that the band could return to the studio following their current tour.