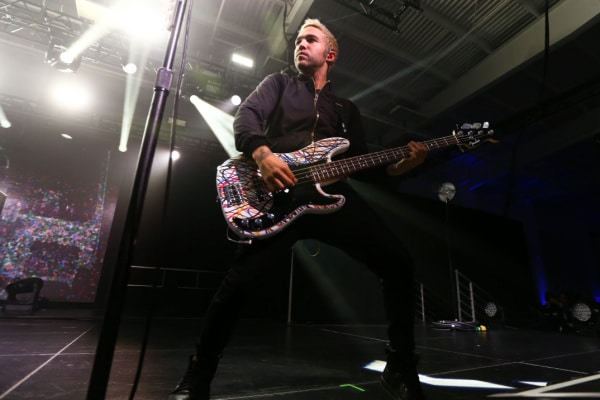 Fall Out Boy have been sending out these cryptic postcards.
Along with the title 'Pink Seashell Beach', these postcards also contain this message.
"I saw you in a bright clear field. Hurricane heat in my head. The kind of pain you feel to get good in the end. Inscribed like stone and faded by the rain: 'Give up what you love give up what you love before it does you in…'". 
It is possible that this statement could be reference to a line from Fall Out Boy track 'Our Lawyer Made Us Change The Name Of This Song So We Wouldn't Get Sued'. 
This is the opening single to the band's 2005 album 'From Under The Cork Tree'. 
You can also check out these postcards below.
greetings from: pink seashell beach!!! thanks for the postcard [from a plane crash, wish you were here 😉 ] @falloutboy pic.twitter.com/uhMuFhLSbI

— tucci's mom (@emmaquesadilla) December 12, 2022
And here.
https://twitter.com/fixbekahin45/status/1602454513775943680?ref_src=twsrc%5Etfw%7Ctwcamp%5Etweetembed%7Ctwterm%5E1602454513775943680%7Ctwgr%5E778db088e16f80ce4546dfe8a08e4f61881aea4e%7Ctwcon%5Es1_&ref_url=https%3A%2F%2Fwww.nme.com%2Fnews%2Fmusic%2Ffall-out-boy-are-sending-fans-cryptic-postcards-3366855
"Take pleasure in the details"
On top of this, Fall Out Boy have also launched a website, containing the strapline "Take pleasure in the details".
Here the band have also invited fans to "join us for a tiny sneak peak into our world". Those who click a button reading "Do not open before Christmas", can access a form where they can fill in details, for some kind of mailing list, we suspect.
Does this mean that new music is on the way from the band? Who knows.
One musician who does have a new album in the works is singer Adam Lambert.
Coming out in February 2023, the album 'High Drama' includes a range of covers, including Duran Duran's 'Ordinary World'.
Other covers also include  Billie Eilish's 'Getting Older', Bonnie Tyler's 'Holding Out For A Hero', as well as Pink's 'My Attic', Lana Del Ray's 'West Coast', and Ann Peebles' 'I Can't Stand The Rain'.
"It's a fun challenge to figure out a way of doing a 180 with a song", Lambert said of the cover.
"This album is a foray into my world. Over the past decade, I've explored a few different areas and sounds and energies, and I feel like part of this new chapter in my career is me being really clear on who I am, and what I am, and what I'm not. I think that's all coming out in these tracks". 
More on this from Nova here.