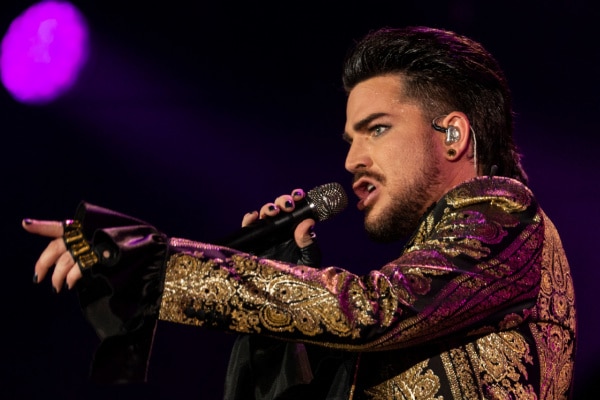 Adam Lambert has announced his new album 'High Drama'.
Arriving in February 2023, the album will feature covers of several tracks, including Billie Eilish's 'Getting Older', Bonnie Tyler's 'Holding Out For A Hero', as well as Pink's 'My Attic', Lana Del Ray's 'West Coast', and Ann Peebles' 'I Can't Stand The Rain'.
Ahead of this release, Adam Lambert also shared a cover of Duran Duran's 'Ordinary World'. You can check that out below.
"a fun challenge"
On the album itself, Adam Lambert also released this statement, calling it a "foray into my world".
"It's a fun challenge to figure out a way of doing a 180 with a song", Lambert said.
He continued, "This album is a foray into my world. Over the past decade, I've explored a few different areas and sounds and energies, and I feel like part of this new chapter in my career is me being really clear on who I am, and what I am, and what I'm not. I think that's all coming out in these tracks". 
On top of this, Queen singer Adam Lambert is also set to announce an exclusive one off show at London in February.
While further details are to be announced in January, fans can also pre order pre sale tickets here.
https://twitter.com/adamlambert/status/1602536020917964800?ref_src=twsrc%5Etfw%7Ctwcamp%5Etweetembed%7Ctwterm%5E1602536020917964800%7Ctwgr%5Ed394c3a57de68197fec450656a4f41a3cd9096a0%7Ctwcon%5Es1_&ref_url=https%3A%2F%2Fwww.nme.com%2Fen_au%2Fnews%2Fmusic%2Fadam-lambert-announces-new-album-high-drama-and-shares-cover-of-duran-durans-ordinary-world-3366313
Next year is also set to see Lambert tour with Queen for possibly "one last time".
On this Brian May stated that "there's a strong possibility that we'll be going out together again. We're talking about that as you and I speak, making those decisions".
He also added that, "it does get to be more of a decision as you get older. I'm not 35 anymore, and leaving home for two months is not easy".
Singer Adam Lambert first joined Queen in 2011.
Check out more on this from Nova here.