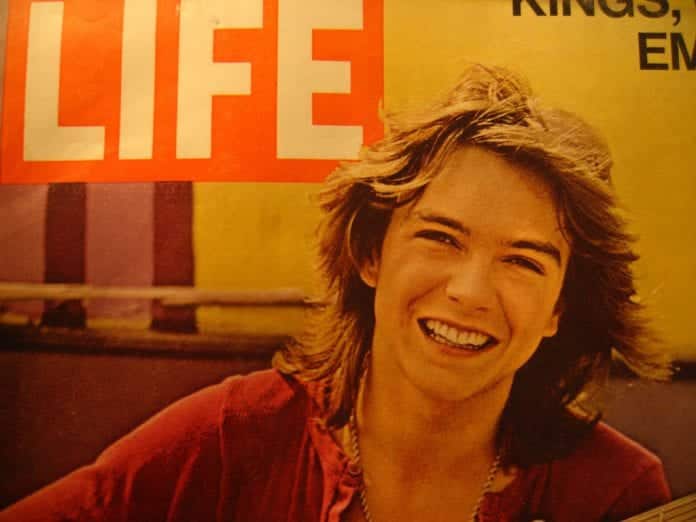 David Cassidy passed away yesterday evening at the age of 67 after being hospitalised days earlier with multiple organ failure.
His publicist Joann Geffen confirmed his death and released a statement from his family.
"On behalf of the entire Cassidy family, it is with great sadness that we announce the passing of our father, our uncle, and our dear brother, David Cassidy. David died surrounded by those he loved, with joy in his heart and free from the pain that had gripped him for so long."
"Thank you for the abundance and support you have shown him these many years."
Cassidy had announced his diagnosis with dementia early in 2017. He spoke about his memory condition and arthritis when he performed at the B.B. King Blues Club & Grill in New York in March, saying his arthritis made playing the guitar an ordeal.
Celebrity fans including Brian Wilson, Marie Osmond, Diane Warren,Harry Connick Jr and more have taken to Twitter to pay tribute to Cassidy this morning.
so sad to hear of the passing of david cassidy… he was always so kind to me – such a pleasure to have had him on my show… sending love and prayers to his family… R.I.P. friend ❤️ pic.twitter.com/tsFkNiJzFc

— Harry Connick Jr (@HarryConnickJR) November 22, 2017
I'm very sad to hear about David Cassidy. There were times in the mid-1970s when he would come over to my house and we even started writing a song together. He was a very talented and nice person. Love & Mercy to David and his family.

— Brian Wilson (@BrianWilsonLive) November 22, 2017
David was first introduced to the world as star of the hit TV show 'The Partridge Family', which aired for four years from 1970-1974. This gave him an audience for his music, with his first major single being 'I Think I Love You'. The track hit number one and sold 5M copies. His fan club actually had more members than The Beatles or Elvis at one point.
Heartbroken over the passing of #DavidCassidy. He graced the covers of teen magazines w/ my Brothers in the '70s. My condolences to his Family. 🙏💋 #RIP #PartridgeFamily #DavidsHitSong #70sIcon #IWokeUpInLoveThisMorning pic.twitter.com/EUJXr8YBwb

— Marie Osmond (@marieosmond) November 22, 2017
Bye bye childhood RIP David Cassidy

— Diane Warren (@Diane_Warren) November 22, 2017
Feature Image: KitAy