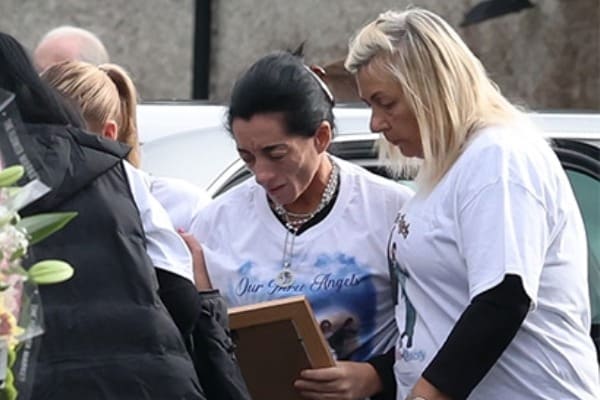 The funeral of three young people who died in their home last Sunday in Tallaght has taken place at at St Aidan's Church, Brookfield this morning.
The world has been left shocked and not just the local community, by the horrific deaths early last Sunday morning according to celebrant Fr Bill O Shaughnessy.
18-year-old Lisa Cash and her twin siblings, 8-year-olds Chelsea and Christy Cawley have been laid to rest.
Fr. Paul O'Driscoll, Parish Priest of the Travelling People, who presided over the funeral singled out their surviving brother who had the "bravery and strength to raise the alarm, to go and get help is an inspiration to courage and love."
Three horse-drawn carriages brought the three young siblings white caskets from the church to Bohernabreena Cemetery, where they were laid to rest.
The children's mother Margaret attended the funeral wearing a T-shirt bearing a picture of her beloved children, with the caption: 'My three angels.' While Dozens of friends and family members wore similar t-shirts.