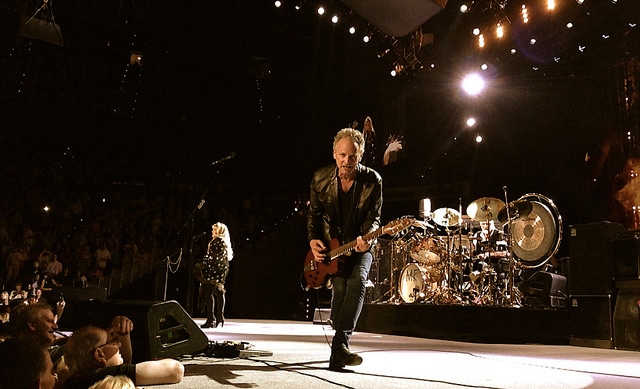 Fleetwood Mac are the headline act for the Isle Of Wright Festival next year, the band will perform on the final night of the show.
The 'On With The Show' tour arrives in Europe at the end of May, their first concert will be at London's O2.
The band will hit Irish shores towards the end of June to play Dublin's 3Arena. Although, the concert sold out in ten minutes, they've not added another gig.
Fleetwood Mac have signed an exclusive worldwide deal to headline the Isle Of Wright event, so the rumours of the group headlining Glastonbury can now be disregarded.
The Isle Of Wight Festival 2015 will take place on June 11th – 14th. Fleetwood Mac said: "We've always wanted to come to the UK to play The Isle of Wight Festival, and so we are delighted that in 2015, we are finally making it happen! So many of our fellow artists and friends have played at this historic event over the years, and we can't wait to see all of our fans on the island next summer."
festival organiser John Giddings added: "It's no secret that Fleetwood Mac have been on my wishlist for The Isle of Wight Festival for some time now, so I'm very pleased and extremely proud to have them headline next year's event. With Christine now back in the band too, it is going to be a momentous occasion, a moment in music history."
In October, Fleetwood Mac kicked off their North American tour. The group returned to the stage to play their first full set with songbird Christine McVie following a 16 year absence.
She retired in 1997 due to a phobia she developed, which was later treated with psychotherapy. She had a fear of flying and this was the reason she decided not to continue with Fleetwood Mac after 1998.
Lindsey Buckingham described McVie's return as "a beautiful, profound, poetic new chapter now that this lady is back with us. And it's a chapter that is going to go on for a while. A chapter that is going to yield much fruit. We are very, very excited."
According to Christine McVie (with a caveat to stand corrected if she's wrong) Fleetwood Mac will release a new album to coincide with the upcoming European tour.