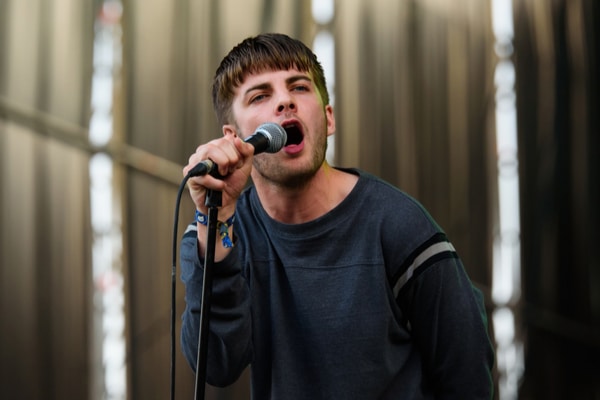 Fontaines D.C cancelled last night's show in Boston as part of their sold out tour.
The band confirmed this news, after it emerged that their frontman Grian Chatten had been diagnosed with laryngitus.
Chatten's diagnosis has forced the band to cancel tonight's show at Brooklyn Steel. The band were also due to hit the venue tomorrow (April 27). That show is also cancelled.
This tour has been supporting Fontaines D.C's latest album Skinty Fia, which was released last week.
"rest his voice for a few days"
Fontaines D.C announced this unfortunate news via Twitter.
"Unfortunately Grian has been diagnosed with laryngitis and has been advised to rest his voice for a few days", the band wrote.
They added, "Therefore sadly the show at Paradise Rock Club in Boston tonight won't be going ahead. We are working to reschedule the show so please hold onto your tickets and await further announcement".
"We appreciate your understanding and we can't wait to get back to Boston soon. Love FDC x".
https://twitter.com/fontainesdublin/status/1518620469909413888?ref_src=twsrc%5Etfw%7Ctwcamp%5Etweetembed%7Ctwterm%5E1518620469909413888%7Ctwgr%5E%7Ctwcon%5Es1_&ref_url=https%3A%2F%2Fwww.nme.com%2Fnews%2Fmusic%2Ffontaines-d-c-cancel-boston-show-grian-chatten-diagnosed-laryngitis-3212148
"In Ár gCroíthe Go Deo" – Fontaines D.C
The Irish punk band's latest album Skinty Fia, also includes a single "In Ár gCroíthe Go Deo", a song which carries a very special meaning for one family in Coventry in particular.
The track was inspired by Bernadette Keane, a woman who won her legal case to have the special Irish phrase inscribed onto her late mother's gravestone.
Her request had been intially rejected on the grounds that it could have been construed as a political statement. However, the new ruling found in the family's favour on grounds of racial discrimination.
The Irish phrase "In ár gCroíthe go deo", translates to "in our hearts forever".
As luck would have it, when the ruling was being made in Mrs Martin's favour, Fontaines D.C were putting the finishing touches to the vocal harmonies for their track In Ár gCroíthe Go Deo.
Mrs Martin said that she was "totally honoured" by the band's gesture. While frontman Grian Chatten had said that the family's approval of this track was "better than any Grammy nomination". More on this report from Nova here.