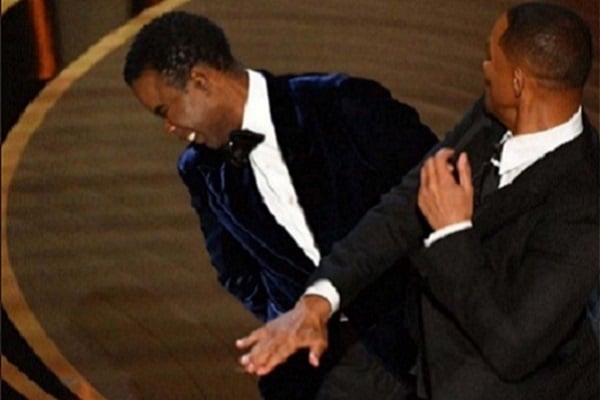 Will Smith has shown his face in public for the first time since his row with Chris Rock at the Oscars last month.
This came after Will Smith hit Chris Rock in the face on stage during the ceremony. Actor and comedian Chris Rock had earlier joked about Smith's wife's baldness, saying that he would love to see Jada Pinkette-Smith in the next GI Jane film. Jada Pinkette Smith was diagnosed with alopecia in 2018.
Smith could later be heard shouting at Rock, "get my wife's name out of your f*****g mouth!". 
Smith later apologised to Rock for his actions, while the LAPD also confirmed that Rock would not be pressing any criminal charges against Smith.
However, that did not stop the Academy from issuing Smith with a ten year ban from all events, including the Oscars.
Will Smith spotted in Mumbai 
Since then, Will Smith has been rarely spotted in the public eye.
However, footage which was captured by Indian photgrapher Viral Bhayani was shared via Instagram, showing Smith at Kalina Airport in Mumbai, India. Will Smith was spotted waving and smiling at paparazzi.
According to reports shared in the Hindustan Times, Will Smith had been staying at Juhu's JW Marriott Hotel over the week.
Check out the footage for yourselves below.
https://twitter.com/Khiladi86/status/1517755292037001217?ref_src=twsrc%5Etfw%7Ctwcamp%5Etweetembed%7Ctwterm%5E1517755292037001217%7Ctwgr%5E%7Ctwcon%5Es1_&ref_url=https%3A%2F%2Fwww.nme.com%2Fnews%2Ffilm%2Fwill-smith-makes-first-public-appearance-since-oscars-slap-3210910
Following his public row with Smith, Chris Rock addressed the incident during a live comedy show in Boston a few days after his altercation at the Oscars.
"I don't have a bunch of s*** [to say] about what happened, so if you came to hear that, I'm not… I have, like, a whole show I wrote before this weekend", Rock told the audience.
"I'm still kind of processing what happened", he added. "At some point I'll talk about that s*** – and it will be serious and funny".
Rock was met with a standing ovation from the audience. He opened the show by somewhat sarcastically asking the crowd, "How was your weekend?", which was met with huge laughter.