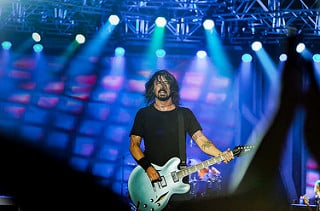 Foo Fighters have announced their return with new album Concrete And Gold
After releasing their surprise new single 'Run' (check out the Dave Grohl directed video below) the band have revealed that their ninth album will be released on September 15. Produced by Greg Kurstin (Adele, Sia, Pink) and mixed by Darrel Thorp (Beck, Radiohead), Concrete And Gold has been described as 'a mix of hard rock extremes and pop sensibilities'.
"I wanted it to be the biggest sounding Foo Fighters record ever," said Grohl. "To make a gigantic rock record but with Greg Kurstin's sense of melody and arrangement… Motorhead's version of 'Sgt. Pepper'… or something like that."
In a recent interview, Dave Grohl teased that the "biggest pop star in the world" features on the LP, singing back-up vocals on one of the "heaviest" songs on the record.
Grohl and Co are currently touring. They play Riga tonight ahead of their headline set at Glastonbury 2017 this weekend. They were joined by a special guest on stage for a gig last week.
Dave Grohl's 8-year-old daughter Harper Grohl joined Foo Fighters on stage during their headlining set at Iceland's Secret Solstice Festival on Friday (June 16). Grohl introduced his daughter and told the crowd that she had recently asked to learn to play the drums! He continued; "And I said, 'Do you want want me to teach you?' She said, 'Yes.' And then I said, 'Do you want to get up in front of 20,000 people in Iceland and play?' And she said, 'Yes.'" Harper Grohl then launched into the first song she learnt – Queen's 'We Will Rock You' – accompanied by the rest of the Foo Fighters.
Tour Dates:
06/21 – Riga, Latvia – Lucavsala Island http://www.bilesuserviss.lv/lat/bilet…
06/24 – Somerset, UK – Glastonbury Festival – SOLD OUT
06/26 – Budapest, Hungary – Budapest Arena http://www.ticketpro.hu/jnp/konnyuzen…
06/27 – Prague, Czech Republic – O2 Arena http://www.ticketportal.cz/event.aspx…
06/29 – Gdynia, Poland – Open'er Festival http://opener.pl/en/TICKETS2
06/30 – Roskilde, Denmark – Roskilde Festival http://www.roskilde-festival.dk/tickets
07/02 – Werchter, Belgium – Rock Werchter – SOLD OUT
07/03 – Paris, France – Accorhotels Arena – SOLD OUT
07/06 – Madrid, Espana – Mad Cool Festival – SOLD OUT
07/07 – Lisbon, Portugal – NOS Alive Festival – SOLD OUT
08/19 – Osaka, Japan – Sonic Summer Festival http://www.summersonic.com/2017/tickets/
08/20 – Osaka, Japan – Sonic Summer
Photo Credit: PhotographsByMe