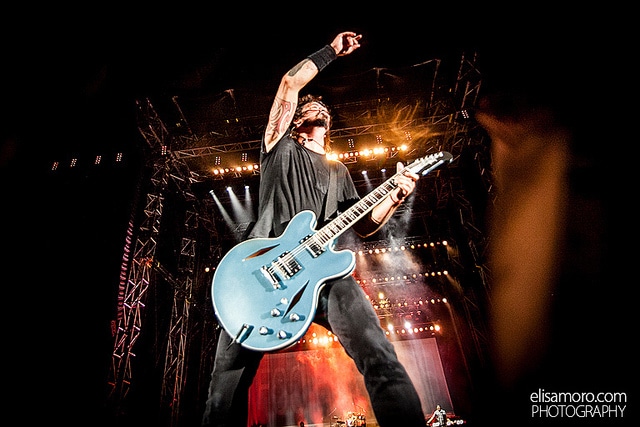 The first two episodes of the Foo Fighters documentary 'Sonic Highways' are airing tonight (Sunday) on BBC Four.
In the series, the American rockers document the making of their new studio album also titled Sonic Highways.
Tonight's episode will take place in Chicago and Washington DC. Episode 1 features Steve Albini, producer of Nirvana's third LP In Utero and Cheap Trick's Rick Nielson to record 'Something from Nothing,' the debut song on Foo Fighters' new album.
Episode 2 includes members of the punk band Bad Brains and Ian MacKaye of Teen Idles, Minor Threat and Fugazi. Grohl says that the bands were "the entire soundtrack of my youth."
Dave Grohl directs the miniseries, each episode takes place in a different city, Chicago, Austin, Nashville, Los Angeles, Seattle, New Orleans, Washington D.C. and New York.
The documentary explores the musical significance of each city, its musical characters and chronicles the importance of each music studio they record in.
In each city the band record one song with a local legend. Featured in the series are, Fugazi, Paul Stanley (Kiss), Joe Walsh (The Eagles), Arcade Fire and President Obama.
Grohl even held off writing lyrics until the last day of each session, so he could soak in the experiences, interviews and personalities that became part of the process.
The Foo Fighters frontman says the series is a "love letter to the history of American music." Each episode explores the unique identity of the musicians and identifies how the city they were raised in influenced their musical sound.
Watch the trailer below.
BBC Four Channel Editor, Cassian Harrison said: "BBC Four is renowned for its music programming and I am delighted we have acquired this innovative series that takes viewers into the very roots of popular music, in an epic nationwide odyssey."
The series will air tonight on BBC Four Sunday October 26th at 10pm, followed by episode 2 at 11pm.