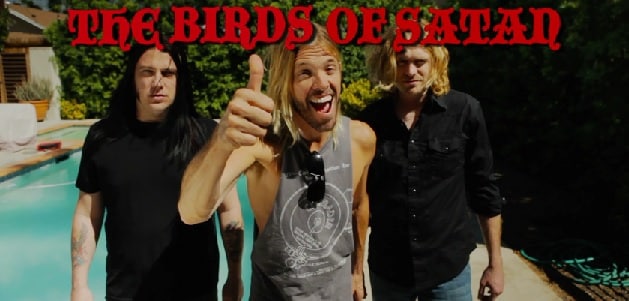 The Foo Fighters drummer, Taylor Hawkins has formed a new band named The Birds Of Satan, as a side project from the Foo Fighters.
The band will be made up of guitarist Mick Murphy and bassist Wiley Hodgen. Hawkins will be vocalist and drummer of the band while also playing the piano, guitar and keyboard.
The album was produced by John Lousteau and was supposedly recorded in less than a week and is due to be released on the 15th of April.
The Foo Fighters frontman Dave Grohl is due to appear as a guest with the new band as well as Pat Smear, Drew Hester and Rami Jaffee.
See tracklist below.
The Birds Of Satan
The Ballad Of The Birds of Satan
Thanks For The Line
Pieces Of The Puzzle
Raspberries
Nothing at All
Wait Til Tomorrow
Too Far Gone to See