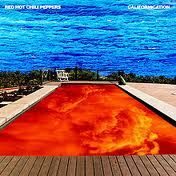 Californication is the seventh studio album by Red Hot Chili Peppers. It was released on June 8, 1999, on Warner Bros. Records and was produced by Rick Rubin. Californication marked the return of John Frusciante, who had previously appeared on Mother's Milk and Blood Sugar Sex Magik, to replace Dave Navarro as the band's guitarist. Frusciante's return was credited with changing the band's sound altogether, producing a notable shift in style from the music recorded with Navarro. The album's subject material incorporated various sexual innuendos commonly associated with the band, but also contained more varied themes than previous outings, including lust, death, contemplations of suicide, California, drugs, globalization, and travel.
Californication is the Chili Peppers' most commercially successful studio release, with over 16 million copies sold worldwide, and more than 5 million in the United States alone. As of 2002, the album had sold over 4 million copies in Europe. The record produced several hits for the band, including "Otherside", "Californication" and the Grammy Award-winning "Scar Tissue". Californication peaked at number three on the U.S. Billboard 200. The record marked a significant change in style for the band: Rolling Stone's Greg Tate noted that "while all previous Chili Peppers projects have been highly spirited, Californication dares to be spiritual and epiphanic".
Guitarist John Frusciante left the band in the middle of a 1992 tour that promoted their critically acclaimed album Blood Sugar Sex Magik. It took over a year for the band to find a new guitarist with whom to record officially. Dave Navarro, formerly of Jane's Addiction, was invited to join the Chili Peppers after Arik Marshall, who had finished the remaining tour dates for Blood Sugar Sex Magik, was fired. Navarro influenced the band's ensuing album, One Hot Minute, by incorporating various elements of heavy metal and psychedelic rock, which was something that the Chili Peppers had not previously been notable for. One Hot Minute was a commercial success, selling roughly five million copies (although a let down compared to Blood Sugar Sex Magik). Critics, however, dismissed the album, claiming it was weak and unfocused. Shortly after the release of One Hot Minute, Navarro was fired due to internal differences.
In the years following Frusciante's departure from the Chili Peppers, he had developed a vicious addiction to both heroin and cocaine that left him in poverty and near death.Friends convinced him to enter drug rehabilitation in January 1998. In April 1998, following Frusciante's three month completion, Flea visited his former band-mate and openly invited him to re-join the band, an invitation Frusciante readily accepted. Within the week, and for the first time in six years, the foursome gathered to play and jump-started the newly reunited Red Hot Chili Peppers
Californication was released on June 8, 1999, debuting at #5 but peaking at #3 on the Billboard 200 chart. In Europe, the album peaked at #5 on the UK Top 40, #1 on the Finnish, Austrian, Swedish and New Zealand charts, and #2 on the French Top 40. It was certified gold just over a month later, on July 22, 1999, and its continuing sales have resulted in it being certified five-times platinum. In March 2006, the Red Hot Chili Peppers' albums were made available to purchase on the iTunes Music Store. Albums bought there included new previously unreleased tracks ("Fat Dance", "Over Funk", and "Quixoticelixer"). In Germany, it was the band's best-selling album, staying on the Media Control Charts for 114 weeks (more than 2 years) and selling more than 750,000 copies, reaching 3× Gold.
Californication received favorable reviews in contrast to its less popular predecessor, One Hot Minute, and it was a greater success worldwide. Rolling Stone credited Kiedis for his drastically improved vocals: "[his] vocal cords have apparently been down to some crossroads and over the rehab, and returned with heretofore unheard-of range, body, pitch, soulfulness, and melodic sensibility."Songs such as "Otherside" and "Porcelain" were called "Pumpkins-esque", while the album as a whole was "epiphanal" and the "RHCP furthermuckers are now moving toward funk's real Holy Grail: that salty marriage of esoteric mythology and insatiable musicality that salvages souls, binds communities and heals the sick." Other critics credited the album's success to the return of Frusciante. Allmusic's Greg Prato said that the "obvious reason for [the band's] rebirth is the reappearance of guitarist John Frusciante", considering him to be the "quintessential RHCP guitarist". The album as a whole was "a bona fide Chili Peppers classic". Entertainment Weekly also credits Frusciante with transforming the band's sound into a "more relaxed, less grating, and, in their own way, more introspective album than ever before". Mark Woodlief of Ray Gun commented that "'This Velvet Glove' strikes an intricate balance between a lush acoustic guitar foundation and anthemic rock," Woodlief continued "the disco intro to 'Parallel Universe' gives way to a scorching Western giddy-up motif in the chorus, and Frusciante's Hendrix-like excursions at the song's close."
Track list
All songs written and composed by Red Hot Chili Peppers.
No.
Title
Length
1.
"Around the World"
3:58
2.
"Parallel Universe"
4:30
3.
"Scar Tissue"
3:35
4.
"Otherside"
4:15
5.
"Get on Top"
3:18
6.
"Californication"
5:21
7.
"Easily"
3:51
8.
"Porcelain"
2:43
9.
"Emit Remmus"
4:00
10.
"I Like Dirt"
2:37
11.
"This Velvet Glove"
3:45
12.
"Savior"
4:52
13.
"Purple Stain"
4:13
14.
"Right on Time"
1:52
15.
"Road Trippin'"
3:25