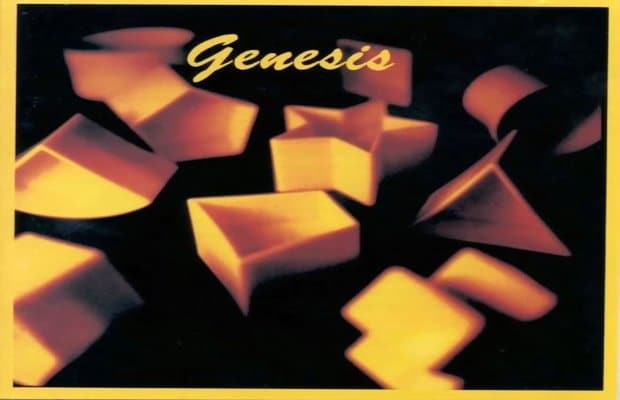 Genesis is the twelfth studio album by Genesis, recorded and released in 1983. The shapes are from the Tupperware "Shape O Toy Ball." The toy consists of a blue and red hollow ball with different shaped holes cut into the surface, into which the shaped pieces can be inserted.
Genesis (so named for the fact that all three band members composed every song on it together) marked the beginning of Hugh Padgham's formal production assistance after engineering Abacab.
"Mama", a song about a man's obsession with a prostitute, became Genesis' biggest UK hit, reaching No. 20 upon release (and ultimately peaking at No. 4), although the song did not do well in the US singles chart. Further successes "That's All" (which became the band's first US Top 10 hit), "Illegal Alien" and "Taking It All Too Hard" ensured that Genesis was well received, and it reached No. 1 in the UK, remaining in the charts for 51 weeks. It also reached No. 9 in the US, eventually selling over four million copies there alone. The first side of the album contains three progressive rock songs from "Mama" to "Home by the Sea". The second side of the album contains five pop rock songs from "Illegal Alien" to "It's Gonna Get Better."
A SACD / DVD double disc set (including new 5.1 and Stereo mixes) was released in October 2007 in Europe and as a CD and DVD double disc set in the US and Canada a month later.
The album was developed differently from previous Genesis albums. Prior to this album, each member would bring in their song ideas fully composed. This time, each band member would bring in a fragment of an idea and they would compose the song together through improvisation in the studio. The band did this due to the other commitments taking up their time, as the members by this point had side projects and solo careers. This method allowed them to keep the band unified and the songs fresh.
A "bit" (fragment of music too short to be used as a complete piece) written during Genesis sessions was later developed into the song "A Call to Arms" on Mike + The Mechanics (1985). Collins and Banks were unenthusiastic about the "bit" and had voted against developing it. The album sessions produced no non-album tracks, the only studio sessions since 1974's The Lamb Lies Down on Broadway not to do so. However, a 12-inch single was released with unedited versions of "Mama" and "It's Gonna Get Better," both of which appeared on the album in edited versions.
That's All was developed from a bit Phil Collins created as a tribute to The Beatles, in particular the drumming style of Ringo Starr, who he considered one of his drumming influences.
In their retrospective review, Allmusic criticized the album for lacking coherency, but found that a majority of the tracks are outstanding, "balancing such sleek, pulsating pop tunes as 'That's All' with a newfound touch for aching ballads." They also praised the band's completely redefining themselves as a pop group. The Kerrang! reviewer determined that for this album Genesis "have traded technical complexity and ingenuity for an altogether more stunning simplicity", making "a Genesis album for people who normally hate Genesis" and "great music for the masses". In 1985 the album received a Grammy Award nomination for Best Rock Performance by a Duo or Group with Vocal while "Second Home by the Sea" was nominated for Best Rock Instrumental Performance.
Track listing
All songs written by Tony Banks, Phil Collins, and Mike Rutherford.
Side one
"Mama" – 6:46
"That's All" – 4:22
"Home by the Sea" – 4:46
"Second Home by the Sea" – 6:22
Side two
"Illegal Alien" – 5:12
"Taking It All Too Hard" – 3:54
"Just a Job to Do" – 4:44
"Silver Rainbow" – 4:27
"It's Gonna Get Better" – 5:00