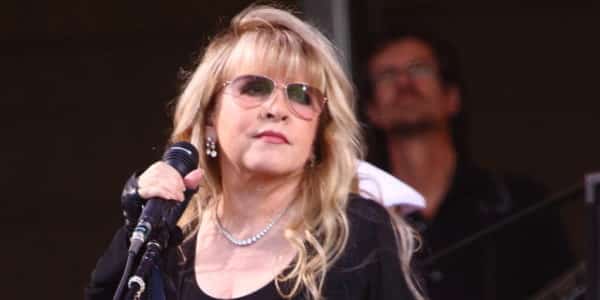 It's amazing how first impressions can either make or break a music career, isn't it? That is certainly the case when former Fleetwood Mac member Stevie Nicks was offered a duet on the Tom Petty track "Stop Draggin My Heart Around". This track was part of her 1981 album Bella Donna and has been credited with launching her solo career.
It was revealed that when her producer/boyfriend Jimmy Lovine offered the duet intially, Nicks turned it down on the basis that she wanted all her material to be her own. It was said that Nicks actually stormed out of the studio when Lovine mentioned the idea to her.
"Sorry for being so bitchy"
Thankfully for music fans, Stevie Nicks changed her mind. Recalling the moment she returned to the studio. Nicks said, "Okay, you're absolutely right. I'm sorry for being so bitchy about this, it's just that I'm so protective of my songs".
"And because of that song, I have a solo career to this day", she added.
Funny enough, Tom Petty was not too keen on the duet either. The singer had initially planned to re-cut the track, rather than maintain the orginal.
"He (Lovine) plays me Stop Draggin' My Heart Around, the same track, with her singing", Petty had said. "I go: 'Jimmy, you just took the song?…His comeback was, like: 'This is gonna buy you a house". 
Petty did also admit, "But it p****d me off because it came out at the same time as our single (A Woman In Love), and I think ours suffered". 
The questionable judgements did not end there….
It also turns out that the questionable lapses in judgement did not even end with Nicks and Petty. It also emerged that the keyboardist for Petty's band Tom Petty & The Heartbreakers Benmont Trench was not too keen on Nicks upon first meeting the singer. Trench and Nicks met when the band backed her for her recording of Outside the Rain.
On Stevie Nicks, Trench said, "I had seen Fleetwood Mac play, and with Stevie I just didn't get it. I didn't know what was going on with the top hat and the twirling and the witchy stuff".
However, fences were mended, and Trench went on to be the musical director for that album "Bella Donna". This change of mind occurred after Trench bought a Fleetwood Mac record. "But then I bought the single to Go Your Own Way and flipped it over, and there's Silver Springs. Good Lord, what a song", he said.
He also added, "The second I heard that, I went: 'Now I get it. That's Stevie. She's not faking. She's for real. She's not a poser in the least. She's a creative perpetual-motion machine. This is somebody I'd really love to play music with". 
Following this collaboration, Tom Petty and Stevie Nicks became close friends, with Petty calling her a "honorary Heartbreaker". The last time they played together was when Nicks joined Tom Petty and The Heartbreakers for British Summer Time in London's Hyde Park.
We also reported earlier this month that Tom Petty's album "Finding Wildflowers" (Alternate Versions) is availble to buy. More here.