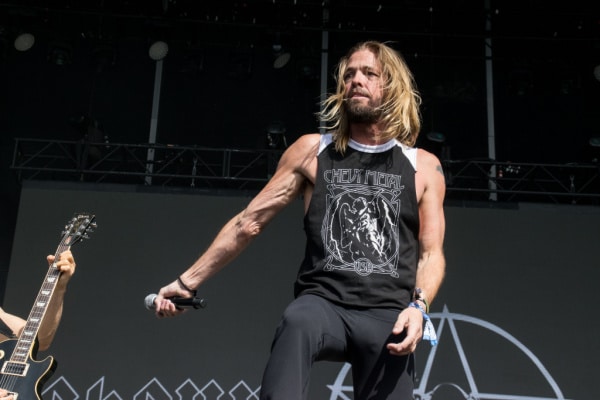 Foo Fighters honoured their late drummer Taylor Hawkins with an all-star tribute concert last night at London's Wembley Stadium.
Crowds of fans and musicians gathered to remember the late drummer.
Dave Grohl emotionally broke down mid-song as he performed at The Tribute Concert.
He took the mic to sing the first Foo Fighters song of the gig 'Times Like These' and began to choke up. The audience cheered him on in support.
Several musicians took Taylor's place as the drummer for the concert, including Dave Grohl's daughter Violet, 12-year-old Nandi Bushell and Taylor's own son, Oliver Shane, 16, who performed My Hero.
Liam Gallagher opened the show with a fitting rendition of Oasis's Rock And Roll Star.  Queen and AC/DC also showed up to pay tribute at Wembley
Adding to an already-star studded bill was surprise addition Paul McCartney. He performed alongside The Pretenders' Chrissie Hynde and Grohl – who switched between the drums, guitar and bass throughout the night.
Grohl described Hawkins as his "dear friend, bandmate and brother".
He said of Hawkins "no-one else could make you smile or laugh or dance or sing like he could".
"And for those of you that admired him from afar, I'm sure you've all felt the same thing,"
"So sing and dance and laugh and cry and scream and make some noise so he can hear us right now."
Taylor died suddenly in March of this year in his hotel room in Colombia, at the age of 50, while The Foo Fighters were on the South American leg of their recent world tour.
No cause of death was announced, although a toxicology report showed traces of 10 substances in his body, including opioids, marijuana and anti-depressants.