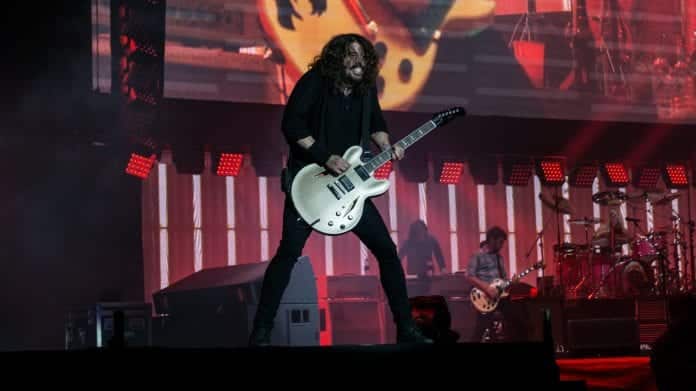 Fans have been speculating on Twitter about what the band's latest tweets are about. A 2018 UK Tour some think. They seem to be teasing something UK related anyway, after unveiling vintage portraits of each of the band members over the Union Jack on Twitter today.
The band launched their brilliant new album Concrete And Gold at their last UK gig which featured a guest performance from none other than Rick Astley.
The rockers just headlined their self-organised festival 'Cal Jam' in LA, where they collaborated with Joe Perry, Liam Gallagher and were honoured by Queens Of The Stone Age.
We also recently reported that The Foos kind of bashed their appearance on James Corden's Carpool Karaoke.
"By hour three in dude's car it got less fun," guitarist Pat Smear said when speaking to NME. "It kinda went on. When we stopped at Guitar Centre, that felt like we were done, but it was like 'this is halfway'."
Front-man Dave Grohl said he didn't doubt that Corden is a real music lover, but that he did feel "a little uncomfortable" about being made to sing his own songs. But surely he knew that was the deal, right?
Also speaking to NME Grohl said, "Oh he definitely is [a music lover]," "And he's a very nice guy. But y'know, I don't mind singing my own songs at Glastonbury or The O2 but if I had to sing you a song right not I'd be too embarrassed." Probably shouldn't have signed up for Carpool Karaoke then Dave.
Photo Credit: Raph_PH