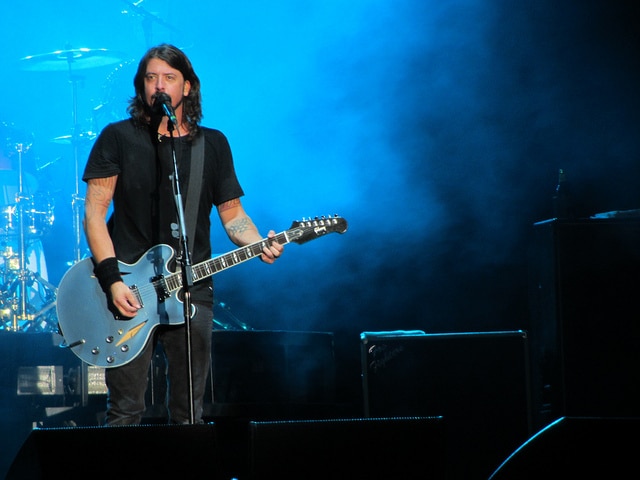 Foo Fighters frontman Dave Grohl has subtlety suggested that the Glastonbury organisers should pick up the phone and "give them a call".
Speculation has been growing that the American rockers will headline next year's festival.
The story isn't only being talked about by fans, the Glastonbury organiser Emily Eavis says that the band are "overdue" an appearance.
Emily Eavis told NME: "We'd love to have the Foo Fighters back at Glastonbury and they haven't played since 1998 so its well overdue! We'll have to see…"
The band are in the running alongside the likes of Muse, AC/DC, Foals and U2 to headline the event next summer.
Speaking to NME, Dave Grohl said that they were certainly up for it. "I mean, it's an iconic festival. I just tell everyone if they need a band, we're pretty good. They should give us a call. See what happens."
It appears both parties are acting fairly coy about the whole situation. The early front runners to headline the event were Queen and Fleetwood Mac but both bands have now been ruled out of contention.
Foo Fighters released their new album Sonic Highways today November 7th. It's the group's eighth album and features guest appearances from the Eagles' Joe Walsh, Death Cab For Cutie's Ben Gibbard and Cheap Trick's Rick Nielsen.
Speaking to NME about the album, drummer Taylor Hawkins says: "We like the way our band sounds, naturally. I want drums to sound like drums, as opposed to a drum machine. We kept it as humanly perfect as possible but nothing more. It's as perfect as we can be, which is not perfect."
Glastonbury 2015 takes place from Wednesday 24th to Sunday 28th June, with other rumoured acts including Taylor Swift, Oasis, Depeche Mode, Diana Ross and Fatboy Slim.