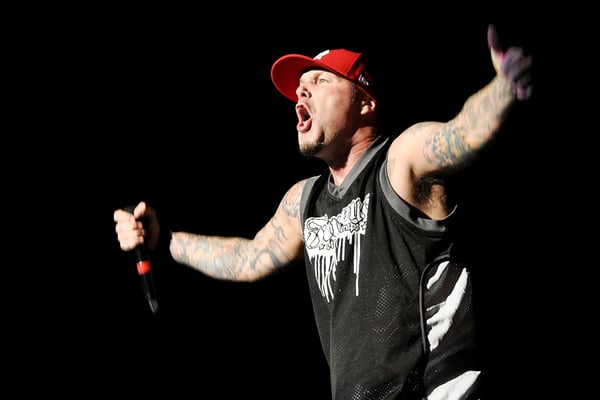 Fred Durst has lost out on the chance to own a one of a kind action figure modelled on himself.
The Limp Bizkit frontman recently reappeared with a new look. Looking like a reject from a 1970s porn movie, Durst performed at Lollapalooza clad in a grey wig with handlebar mustache. The look is to promote Limp Bizkit's new song Dad Vibes.
Durst's new look caused an instant sensation, and one toymaker was inspired to create an action figure based on the singer's new image.
Ebay seller outofstocktoys put the action figure up for auction on the site on Monday night. Among those bidding to own the doll was none other than Durst himself.
Durst went as high as $415 with his bidding. It wasn't enough to snag the doll, however. The action figure sold for a winning bid of $680. A total of 54 bids were made for the replica of the rocker.
The Limp Bizkit star broke the news of his failed bid to his fans in an Instagram story.
"I lost the auction on this illegal toy," Durst wrote. "Things are good," he added, seemingly in upbeat resignation.
If you're wondering why a multi-millionaire rock star is spending his time on the internet bidding for toys, well, Durst has time on his hands now. Limp Bizkit have had to cancel their US tour due to the pandemic.
"Out of an abundance of caution and concern for the safety of the band, crew and most of all the fans, the Limp Bizkit show this Monday and the remaining August tour is being cancelled," a statement from the band notified fans.
It had been rumoured that the band's guitarist Wes Borland had contracted the virus, but the band denied this.
"The system is still very flawed," Durst said of the processes put in place to restore live music in the US. "Even if the performers, crews, staff, and promoters do their best to ensure safety on and behind the stage, that doesn't ensure the safety of the audience as a whole. We are all in this together, and we all — individually and as a whole — have to make our best efforts to be as responsible and proactive as possible moving forward to combat and stop spreading COVID."