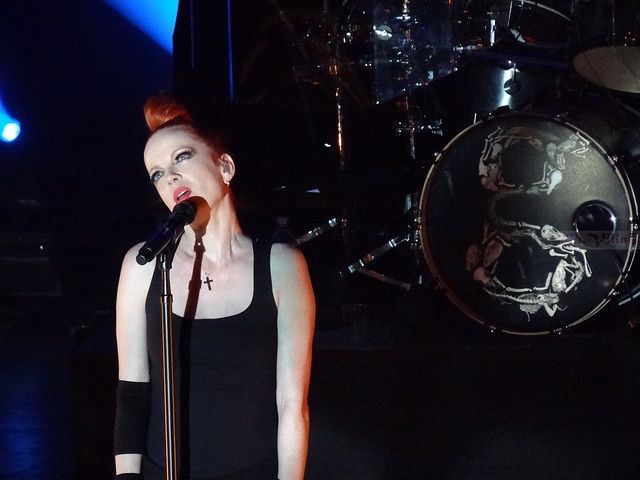 Garbage's singer Shirley Manson isn't impressed by rapper Kanye West, she labelled him "petty and spoilt" after he had a go at Beck at the Grammys on Sunday night.
As Beck made his way to the stage to collect his 'Album of the Year' award, he was shadowed by a familiar grumpy face.
The rapper infamously snatched the microphone of Taylor Swift at the 2009 MTV Video Music Awards. As Taylor was about to thank all her friends and family, Mr.West butted in to announce that Beyonce should have won the award.
It looked for a minute like history was going to repeat itself, thankfully this time Mr. West was only having a laugh with Beck and leaned into the microphone for a split second before running back to his seat.
However, just when we thought Kanye might actually have a sense of humour, he told The Hollywood Reporter:
"I just know that the Grammys, if they want real artists, to keep coming back, they need to stop playing with us. We ain't gonna play with them no more and Beck needs to respect artistry and he should've given his award to Beyoncé."
"Because when you keep on diminishing art and not respecting the craft and smacking people in their face after they deliver monumental feats of music, you're disrespectful to inspiration and we as musicians have to inspire people who go to work every day, and they listen to that Beyoncé album and they feel like it takes them to another place," Kanye said.
Garbage's Shirley Manson then had a go a Mr. West on Facebook, posting the following message: "Dear Kanye West, it is YOU who is so busy disrespecting artistry. You disrespect your own remarkable talents and more importantly you disrespect the talent, hard work and tenacity of all artists when you go so rudely and savagely after such an accomplished and humble artist like BECK. You make yourself look small and petty and spoilt."
"In attempting to reduce the importance of one great talent over another, you make a mockery of all musicians and music from every genre, including your own. Grow up and stop throwing your toys around. You are making yourself look like a complete twat.
"P.s. I am pretty certain Beyonce doesn't need you fighting any battles on her account. Seems like she's got everything covered perfectly well on her own."
Don't mess with Shirley Kanye!