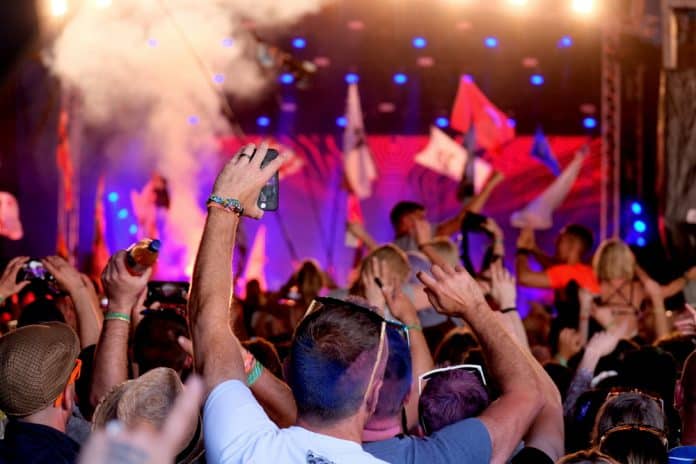 Music fans in Germany have been given the chance to rock for a day in the name of science.
Researchers in the German city of Leipzig staged three 1,500-person experimental indoor concert on Saturday to better understand how Covid-19 spreads at big, busy events, and how to prevent it.
Labelled "Restart-19", the study saw scientists teaming up with soul-pop singer, Tim Bendzko.
At the gig fans were given respiratory face masks, fluorescent hand gel and electronic "contact trackers" — small transmitters that determine the contact rates and contact distances of the individual experiment participants.
Professor Michael Gekle, the dean of the The University of Halle's medical faculty and a professor of physiology, told CNN the experiment was being conducted to better prepare authorities on how to conduct events in the upcoming autumn and winter seasons.
"We cannot afford another lockdown,"he said. "We have to gather the data now in order to be able to make valid predictions,"he said.
"There is no zero risk if you want to have life. We want to give the politicians a tool in order to decide rationally whether to allow such an event or not. That means they have to have the tool to predict how many additional infected people such an event will produce," he said.
Volunteers aged between 18 and 50 were tested for COVID-19 48 hours before the concert started, and showed proof of a negative test at the door to gain entry. They then acted three different scenarios while at the concerts. In the first one, the audience attended the concerts just as they would have done prior to the pandemic. In the second, they entered through eight entrances to thin out the crowds and sat on every second seat. In the third scenario, only limited spectators were allowed to enter the venue and were seated at a 1.5m distance from each other.
The scientists hope to present their findings on how the virus could be prevented from spreading at indoor events in early October.
Further information is available from the Restart-19 website 
here.