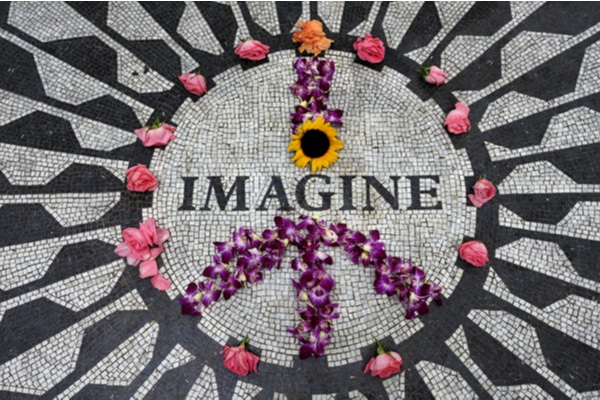 A Global Event is to take place this evening (September 9) to celebrate the 50th anniversary of Beatles music icon John Lennon's track, album and film "Imagine".
This event will be hosted by Yoko and Sean Lennon, Universal Music Group and John Lennon's Estate. It will also celebrate one of the most beloved songs in music history.
The incredble global status of "Imagine" was also celebrated during the opening ceremony of the 2021 Tokyo Olympics. The song was reimagined by celebrated composer Hans Zimmer.
The song was also played in front of hundreds of millions of people. It started the celebrations and the song's golden anniversary.
Imagine
September 9 will give fans the chance to watch the Imagine film together. Originally released in 1971, Imagine was also one of the first full length conceptual films.
It also contains all of the songs from John Lennon's Imagine album, along with four tracks from Yoko's Fly.
Fans can now watch this film in person or online at participating venues. Yoko Ono Lennon and Mercury Studios, along with several partners like Hard Rock, The Coda Collection and Music Venue Trust will make this film available for free.
These will take place at 11:30am PDT/2:30 pm EDT/7:30 pm BST.
Charlatan's frontman Tim Burgess's popular show Tim's Twitter Listening Party will also host an online listening party.
Sean and Yoko Ono Lennon will feature in this listening party, as will the estates of John Lennon, George Harrison and Nicky Hopkins. It will also include drummer Alan White, factotum Klaus Voorman, cameraman Nick Knowland, and of course MC Tim Burgess.
See here for more information.
How can you access this film?
The Coda Collection who specialise in streaming concert and music film documentries, will stream the Imagine Film in the UK and US.
The Coda Collection will be available exclusively via Amazon Prime Video Channels. US viewers will also be able to stream this film on the Coda Collection channel during and after the event for a week's trial.
The Coda Collection will also have accesss to tweets from the Twitter Listening Party via its bespoke page.
This gives fans a huge opportunity to embrace such a wonderfully, unique event.
UK viewers can also stream this event on Amazon Prime with no additional charge.
Hard Rock will also stream the event in many of its Hard Rock cafés across North America and Europe.
UK Sky subscribers can also access this film on the SkyGo App and NowTV. More on this here. 
Imagine double LP
Tomorrow (Sept 10) will see Capitol/UMe release Imagine as a special edition LP on a white vinyl. It can be pre ordered here. 
A new selection of merchandise can also be ordered here.