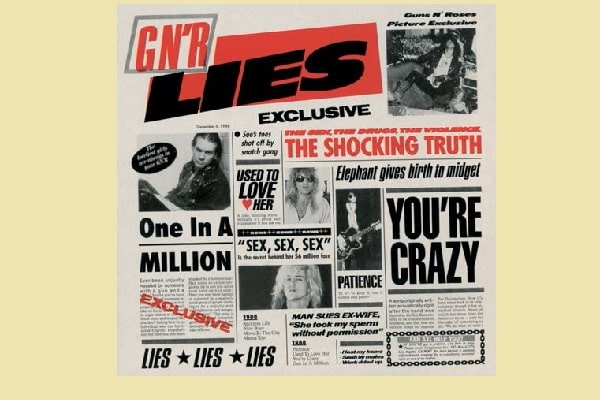 Turning 33 yesterday, Guns 'N' Roses' second album G'N'R Lies burst onto the scene in the November of '88, giving fans that 'booster shot' of material they desperately craved since Appetite for Destruction. Combining the Live ?!*@ Like a Suicide EP and four acoustic tracks, the new album was born – sending fans wild.
Although the release of G'N'R Lies had been marketed as a new studio LP, the first four songs are live(ish) tracks. Blasting things with Hollywood Rose's Reckless Life, Rose Tattoo's Nice Boys, Move to The City, and a cover of Aerosmith's Mama Kin, the album then ascends into its acoustic second half. Listeners are then serenaded through classic tracks Patience, Used to Love Her, You're Crazy, and One in A Million.
Describing what the band were all about, G'N'R Lies had shown fans where the band came from who their influences were. It displays the unbridled energy of Guns 'N' Roses and their own sonic stamping sound from the signature guitar work of Slash to the jaw-dropping range of Axl Rose. Their renditions transform the tracks from simple covers, to arguably besting the originals.
Following their journey through a rampaging first half, G'N'R Lies treats listeners to some classic acoustic, yet slightly controversial tracks. Easing listeners in gently with Patience, the other three tracks were anything but sweet. Showcasing the full spectrum of Guns 'N' Roses' song-writing abilities, Patience released the following April, reaching No. 4 on the Billboard Hot 100 chart. However, the slightly harsher Used To Love Her is full of explicit language and tells the story of how the protagonist "used to love" his former lover, "but I had to kill her!".
Artwork for G'N'R Lies depicted that of a classic, newspaper tabloid with headlines including some of the songs on the album with brief descriptions. According to reports, extra headlines were removed from the cover prior to the album's CD release, including two quips about domestic violence.
G'N'R Lies has spent 41 weeks on the Official Albums Chart, peaking at No. 22, and reached No. 2 on the US Billboard 200. According to the RIAA, the band's second album sold over five million copies in the US alone.