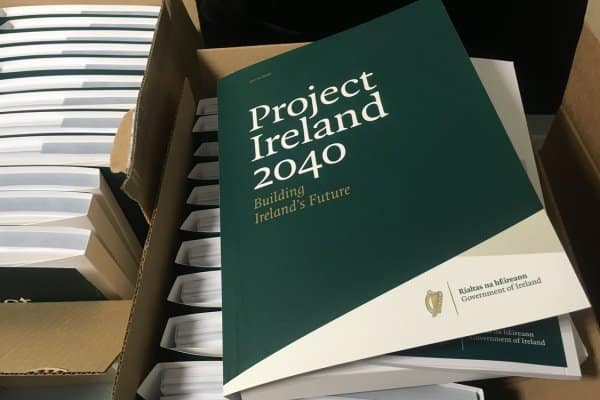 The government has officially launched the National Planning Framework with 116 billion euro of investment.
22 billion is included for measures to tackle climate change as well as large investments in health, housing, education and transport.
Plans to ban all non-zero emissions cars by 2030 and changing bus fleets to hybrids underpin climate change policy.
That also includes 500 million euro to incentivise people to become more climate friendly – upgrading their homes and cars.
The plan is to see 75% of the growth to 2040 happen outside of Dublin. More than 8 billion is being put towards developing the roads network including motorway upgrades and a dedicated Atlantic corridor to run from Counties Donegal to Waterford.
The plan aims to provide 200,000 new or replacement school places through a 8.4 billion euro investment, and a 420 million euro digital strategy for schools. There's also a billion euro for Ireland's cultural institutions.
A 2 billion euro urban regeneration fund for the cities and a 1 billion euro investment for smaller towns
As well as large amounts put into health with the goal of 2,600 extra acute hospital beds and 4,500 residential beds in community nursing homes.
There's 4 new luas lines and a DART extension also announced in Leo Varadkar's bonanza giveaway.
Commenting on the launch of the National Planning Framework, Labour spokesperson on Housing and Local Government, Jan O'Sullivan TD, said..
"This plan has been three years in the making with two sets of public consultation and numerous submissions and discussions. There are background documents that provide the evidence base for its priorities."
"But, during the past two weeks the whole thing has been turned on its head because ministers ran scared of making choices in the national interest. The crying shame is that the validity of the plan is now questionable.'
'This could have been avoided by taking the few weeks needed to complete the enactment of the Planning and Development (Amendment) Bill 2016 which includes in Section 8 the requirement that a draft of the Plan should be approved by both Houses of the Oireachtas along with the accompanying Environment Report and Appropriate Assessment Report."
Fianna Fáil Spokesperson on Public Expenditure & Reform Dara Calleary has accused the government of repackaging dozens of previously announced projects and passing it off as a new national development strategy.
"Today's "launch" is nothing more than a major marketing campaign designed to promote a government which has failed to meet its own targets to date. Major projects being unveiled as part of the NDP such as Metro Link and additional social housing provision were already included in the previous Capital Plan, but just haven't been delivered on.
"Like so many previous action plans, this one looks good on paper, but the real test is in the delivery. This government's record is not great on follow through. The National Broadband Plan was launched to much fanfare in 2011, yet there are more than half a million homes and businesses which will not have high speed access before 2023. The Rebuilding Ireland Plan, which promised over 3,000 direct builds in 2017 delivered fewer than 1,000 homes. Initiatives in health, transport, education and agriculture have all been victims of a government which over promises and under delivers."
Sustainable Nation Ireland CEO Stephen Nolan has welcomed a €22 billion package of measures to create a low-carbon, competitive, climate-resilient economy by 2050. "Today's plan is a very important starting point in Ireland's journey towards a low-carbon, climate-friendly economy that will benefit all of our people.
'The measures outlined today and the recognition of how much capital is required by 2027, can only help to increase investments in technologies, innovations and climate-aligned enterprises that will create jobs and prosperity, but in a much cleaner way."