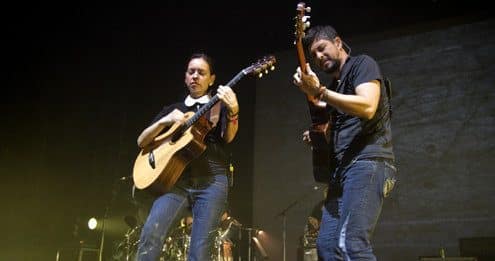 What great news for a Wednesday, Mexican acoustic guitar duo Rodrigo y Gabriela are returning to Ireland this summer!
The pair have just announced two dates for Dublin. The first will be a fully seated show in the National Concert Hall July 15th and the second, in a slightly different venue, at The Academy, Dublin Sunday 16th July.
The Mexican acoustic rock-maestros are on tour to celebrate the tenth anniversary re-release of their classic self-entitled break-out album. Originally released in Ireland in 2006, the album topped the charts ahead of Johnny Cash and the Arctic Monkeys, and a US release on ATO Records followed in 2007.
The re-release of "Rodrigo y Gabriela" includes the newly remastered album, plus two bonus tracks, plus a live album and DVD recorded at The Olympia Theatre in Dublin in 2006. Rodrigo y Gabriela (Deluxe Edition) will be released on 5 May 2017.
Posting the news of their upcoming Irish gig on their twitter page today, it looks like the duo are just as excited for their Irish gig as we are!
Currently residing in Mexico City, they actually began their career here in Dublin, during an eight-year stay!
They took up residence here in 1999, despite not speaking any English. Playing live gigs in various pubs and busking on Grafton Street. It was while in Ireland they became friends with Damien Rice who invited them to open one of his gigs.
The duo's music is influenced by a number of genres including Nuevo flamenco, rock and heavy metal. Their recordings consist largely of instrumental duets on the classical guitar.
They have released five studio albums, three live albums and one EP; they've toured the world, played Glastonbury AND performed at the White House for President Obama. Phew!
In 2011 they dappled with Hollywood and collaborated with Hans Zimmer on the Pirates of the Caribbean: On Stranger Tides soundtrack while also contributing to the soundtrack for the Shrek prequel Puss in Boots.
The pair are now hard at work squeezing in some studio time ahead of their new tour.
Tickets for their gig at the National Concert Hall on Saturday 15th July are priced at €30/€37 including booking fee.
Tickets for their gig at The Academy on Sunday 16th July are priced at €37 including booking fee.
The tickets are to go on sale at 10am this Friday, 7th April at Ticketmaster outlets and www.ticketmaster.ie.
Picture Credit: Diego Figueroa