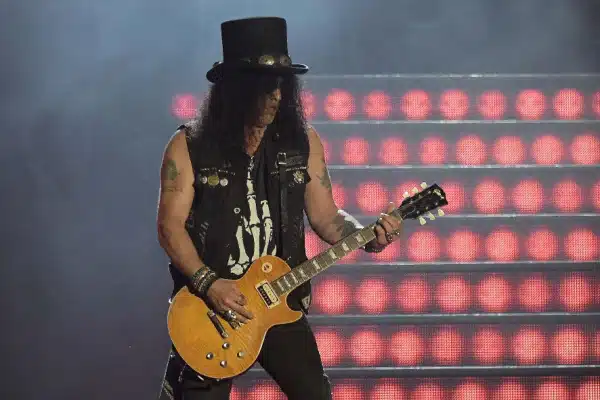 Would you like to listen to the article instead of reading it?
A guitar which was once owned by Guns N'Roses' Slash, the 'Hunters Burst', is being sold for $1 million at an auction (£796,105).
Slash performed with this guitar on stage in 1985-86, before it was eventually sold in July 1986, having been exhibited at the Rock and Roll Hall of Fame.
The guitar's inclusion in the Hall of Fame is well founded, having been used to write the iconic Guns N'Roses debut album 'Appetite For Destruction', an album which includes hits such as 'Sweet Child O'Mine', 'Paradise Man', and 'Welcome To The Jungle' among others.
The Les Pauls 'Hunters Burst', was picked up from Guitars R Us, having been retrofitted with Seymour Duncans according to the listing.
This guitar which was previously owned by Slash, also include documents of provenance, and certificates of authenticity.
Bidding for the guitar ends on September 22. Check out the listing here.
4 sale by Auction: Guns N' Roses Slash First Owned Les Paul "Hunter Burst" Guitar
the guitar that "Saved Rock and Roll." https://t.co/C43YVyhAQ5 pic.twitter.com/X6DASDneCC

— 白兎 JimMac (@mcreefa) September 2, 2023
Guns N'Roses Perform 'Bad Obsession'
Last month, Guns N'Roses also joined the Pretenders' Chrissie Hynde on stage at Fenway Park, for a live performance of 'Bad Obsession'.
The band had previously performed the track at a show in Abu Dhabi earlier this Summer, their first performance of the track in 30 years.
Guns N'Roses also released their new single 'Perhaps' earlier this month, having been initially delayed due to unknown reasons.
News of this release came after production manager Tony Mayhue said that new music from the band was on the way.
"And I know that the band's gonna start working on new music. They've got a bunch of stuff recorded already", he said.
"So there will be new GUNS N' ROSES music very soon. In fact, I think they're trying to get a single out any day now, so you may hear something very, very soon".