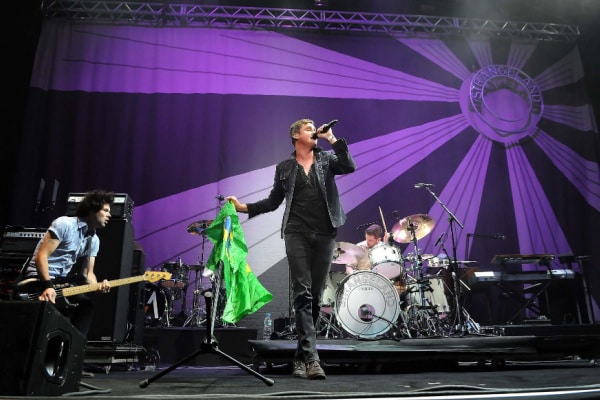 Would you like to listen to the article instead of reading it?
Keane have announced a world tour and remastered album reissue to celebrate 20 years since the release of 'Hopes And Fears'.
The remastered version will arrive on 10 May next year, exactly two decades on from the album's initial release.
Boasting classic tracks such as 'Somewhere Only We Know', and 'Everybody's Changing', this 2004 album became one of the best sellers in the UK Chart, selling 2.5 million copies that year alone, and 10 million copies worldwide.
They also sold a million copies in the US that year, with 'Somewhere Only We Know', proving a big hit stateside.
'Hopes And Fears' was certified platinum and incredible 9 times in the UK.
"extra bit of magic"
As well as a remastered reissue of the album, Keane have also announced a major tour to celebrate 20 years since its initial release.
In fact, on the same day that 20 years would have officially passed since Keane released 'Hopes And Fears', the band will be performing live at London's 02 Arena.
"I remember standing by that amazing old mixing desk at Heliocentric Studios where we made Hopes and Fears, listening to an early mix of Somewhere Only We Know. I had this feeling that we'd come up with something that had an extra bit of magic", Keane lead singer Tom Chaplin said.
"Making music is so often a process full of doubt…but on this occasion there was something undeniable about what we'd created. Clearly a lot of people felt the same when the album came out!".
Found member and songwriter Tim Rice-Oxley also added, "When I think about these songs, I still picture us playing them in little rooms in pubs around the UK. I remember how exciting it was watching the crowds start to grow. Those songs opened the door to another dimension for us; everything that has happened in our lives since then was born out of that moment. It's an incredible privilege for us that people are still listening after all this time".
The tour will also see Keane supported by The Sherlocks and The Lanthums. They will perform at Dublin's 3Arena on May 13. Check out the tour dates in full below.
Tickets will be available from next Friday (September 15) here.
April
Mon 1st MEXICO CITY, Sports Palace
Wed 3rd GUADALAJARA, Auditorio Telmex
Fri 19th AMSTERDAM, AFAS Live
Sun 21st KOLN, E-Werk
Wed 24th BRUSSELS, The Cirque Royal
Fri 26th PARIS, L'Olympia
September
Wed 4th BERKELEY, CA, The Greek Theatre at UC Berkeley
Thu 5th LOS ANGELES, CA, The Greek Theatre
Fri 6th SAN DIEGO, CA, Humphreys Concerts By The Bay
Sun 8th SALT LAKE CITY, UT, Venue TBC
Mon 9th DENVER, CO, Temple Hoyne Buell Theatre
Wed 11th DALLAS, TX, The Majestic Theater
Thu 12th AUSTIN, TX, ACL Live At The Moody Theatre
Sat 14th ATLANTA, GA, The Eastern
Sun 15th NASHVILLE, TN, Ryman Auditorium
Tue 17th MINNEAPOLIS, MN, Palace Theater
Wed 18th CHICAGO, IL, The Chicago Theatre
Fri 20th TORONTO, ON, The Queen Elizabeth Theatre
Sat 21st PHILADELPHIA, PA, The Met
Mon 23rd BOSTON, MA, MGM Music Hall At Fenway
Tue 24th NEW YORK, NY, Radio City Music Hall
Thu 26th WASHINGTON, DC, The Anthem