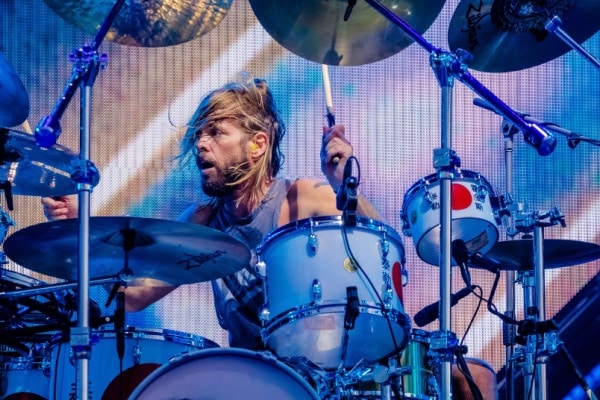 Would you like to listen to the article instead of reading it?
Foo Fighters' concert at Wembley which honoured their late drummer Taylor Hawkins, has been nominated for an Emmy Award.
The tribute show, which was one of two shows to honour the late musician, has been nominated for "Outstanding Sound Mixing For A Variety Series Or Special".
Other nominees in that category include Elton John Live: Farewell From Dodger Stadium, U2's Bono & The Edge: A Sort Of Homecoming With Dave Letterman, The 65th Annual Grammy Awards and Saturday Night Live.
The Hawkins tribute show at Wembley, was directed by Joel Gallen, and produced Emer Patten of EP-PIC Films & Creative, taking place last September.
These tributes shows honoured Taylor Hawkins, who passed away in March 2022, aged 50.
'My Hero'
Along with Wembley, a group of musicians including Foo Fighters also got together in LA for another Taylor Hawkins Tribute Show.
The show saw Taylor Hawkins' son Shane enter the stage as Foo Fighters' drummer, for a live and moving rendition of the track 'My Hero', in honour of his father.
This performance was recognised at the Drumeo Awards earlier this year. More on this here.
As previously mentioned, Taylor Hawkins' Tribute Concert at Wembley has been nominated in the same category at Elton John's livestream of his final North American show, Elton John Live: Farewell From Dodger Stadium.
Should he win, John would also become the 19th person to achieve EGOT Status. Find out more on this here.
Elsewhere, Foo Fighters have also announced plans for a UK Tour, taking place next year.