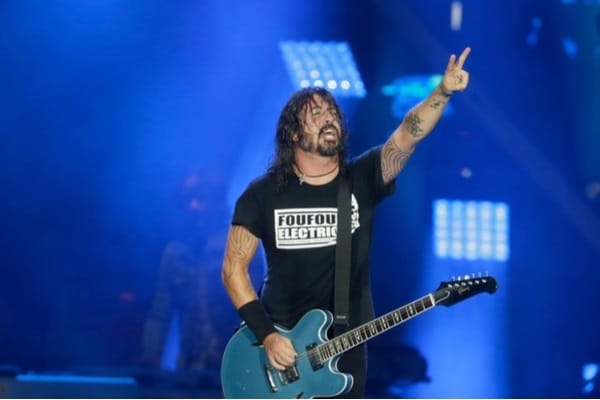 Would you like to listen to the article instead of reading it?
Foo Fighters have confirmed dates for their UK Tour next year.
Taking place across June 2024, the band announced these dates via social media, which will see them perform in Manchester, London, Birmingham, Glasgow, and Cardiff.
These shows will take place between 13 and 27 June, and will see Foo Fighters supported by acts Hot Milk, Honeyblood, Courtney Barnett, Wet Leg, Shame, Himilayas, and Loose Articles.
Tickets will go on general sale this Friday (June 30), at 9am, and will be available via Ticketmaster.
https://twitter.com/foofighters/status/1673588604927623170?ref_src=twsrc%5Etfw%7Ctwcamp%5Etweetembed%7Ctwterm%5E1673588604927623170%7Ctwgr%5E3b47d3b8951ab4193e056ea6f9c14cd90aa91583%7Ctwcon%5Es1_&ref_url=https%3A%2F%2Fwww.nme.com%2Fnews%2Fmusic%2Ffoo-fighters-uk-tour-2024-dates-tickets-3461949
Confirming plans to tour the UK earlier this month, Foo Fighters will support their latest album 'But Here We Are', their first new release since the tragic death of drummer Taylor Hawkins.
Foo Fighters 'Churn Up' Emotions
Foo Fighters also treated fans to a surprise set at last weekend's Glastonbury Festival, which saw them perform under the moniker 'The Churnups'.
Lead singer Dave Grohl appeared to confirm this via social media beforehand.
"Hey, it's been a while", the message read. "Now that we've returned from our first run of shows, I felt compelled to reach out and thank you all for being there for us".
"Every night, when I see you singing, it makes me sing harder. When I see you screaming, it makes me scream louder. When I see you your tears, it brings me to tears. And when I see your joy, it bring me joy. But, I see you… and it feels good to see you, churning up these emotions together".
Elsewhere, the Foo Fighters frontman also joined Guns N'Roses on stage at the Worthy Farm event, performing a live rendition of classic track 'Paradise City', "because you can never have enough guitars", according to their lead singer Axl Rose.
Guns N'Roses had also performed with The Pretenders earlier that day. See more on this story from Nova here.