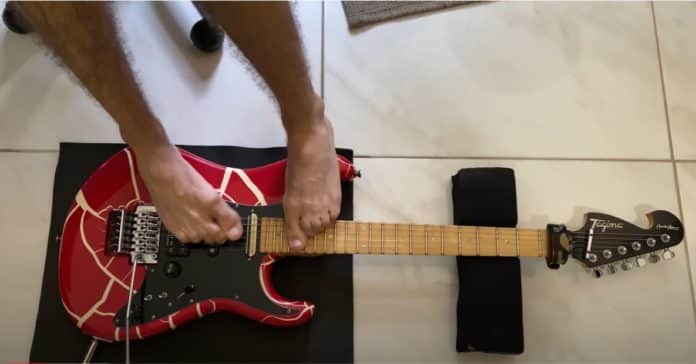 Johnatha Bastos is certainly an inspiration. The Brazilian guitarist has no arms, but he has not let that stop him from being able to do what he loves. Bastos has mastered the ability to play electric guitar with his feet!
Bastos currenly boasts 40,000 followers on Instagram. He was recently recognised by Masters Of Shred, who introduced him as "Brazil's Super Human Shred Extraordinaire".
Bastos plays electric guitar with his feet to a standard that many able-bodied musicians could only aspire to.
Bastos version of "Sweet Child O'Mine"
The latest tune Bastos blasted was Guns N'Roses classic "Sweet Child O'Mine". He even nails those amazing guitar solos from Slash.
Check it out below.
Bastos can also play keyboard, with several videos of him playing virtuoistic key lines on his official Instagram account. Check out his official Instagram for more videos here. 
Guitar playing with feet is rare, but musicians have been known to make a career from it. These include Nicaraguan guitarist Tony Meléndez.
Sweet Child O'Mine was also released as a children's book last year using the same name. More on that story here.
The Armstrum 
Back in February, Indian Research Group Maker's Asylum unveiled the Armstrum. This helps single-handed musicians use a footswitch to use a lever with a guitar pick.
"The goal of designing for differently-abled users in many cases is to allow them to access conventional instruments", the research groups said.
"This creates a level-playing field for all, allows collaboration and cultural inclusivity, and is also more accessible when it comes to availability of parts and equipment". 
"We found that the design we came up with did not have too many constraints as it was designed specifically for a single-handed user", they added. "While this design is not as fine-tuned, it is one way to start thinking about access to guitar-playing for the differently-abled".