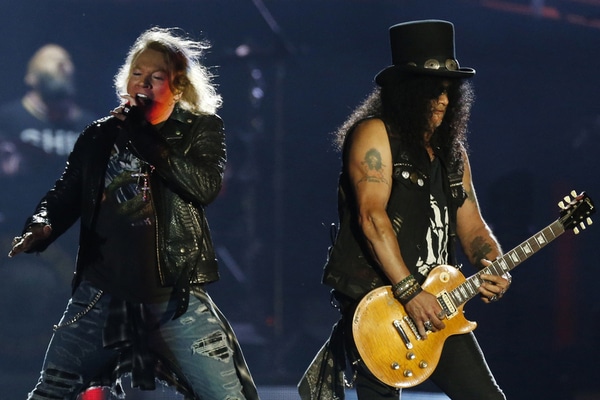 American rockers Guns N' Roses have launched an official line of bongs and smoking accessories.
The move is a collaboration with Famous Brandz, described as "the leading manufacturer of branded lifestyle accessories in the world."
The range of products includes two bongs, two grinders and two hand pipes.
"One of the greatest hard rock bands of our time, Guns N' Roses, has finally released their own officially licensed line of smoking accessories," reads an official statement by Famous Brandz. "In this cool, new collection are six designs, including a water pipe, a dab rig, 2 grinders and 2 styles of hand pipes all featuring iconic artwork familiar to superfans and anyone who loves rock music."
Artwork from the band's 1987 debut album Appetite for Destruction adorns the glass bongs and water pipes.
The official description of the Appetite for Destruction 12″ water pipe reads:
"The hexagonal shape of the base offers a modern twist on the traditional beaker style and provides even more stability and water capacity. This gorgeous bong features a diffused downstem and bullet hole ice pinch, which allow for impressive filtration and smooth hits. The piece comes with a matching herb bowl that has a handle that doubles as a roll stopper to keep it safe from drops."
An official Guns N' Roses bong will set you back $99, however the products are currently only available in the US where the use of cannabis is now legal in many states. The band's international fans will have to show a little patience (sorry!) until their lawmakers change the rules around getting high.
One person who probably won't be availing of Guns N' Roses' new products is guitarist Slash, who recently celebrated 15 years of sobriety.
July 21st marked another GNR anniversary – 34 years since the release of Appetite for Destruction. The hard rock classic still holds the title of the best-selling debut album of all time in the US.
Guns N' Roses are gearing up for their latest world tour, which kicks off on July 31st in Hershey, Pennsylvania. Irish fans will have to show patience (sorry, I can't help myself), as the band won't arrive on our shores until June 28th, 2022 for a Marlay park concert.
We're still awaiting confirmation of new material from the band. Late last year Slash teased the idea of the band returning to the studio in 2021 but no updates have yet emerged regarding a new album.