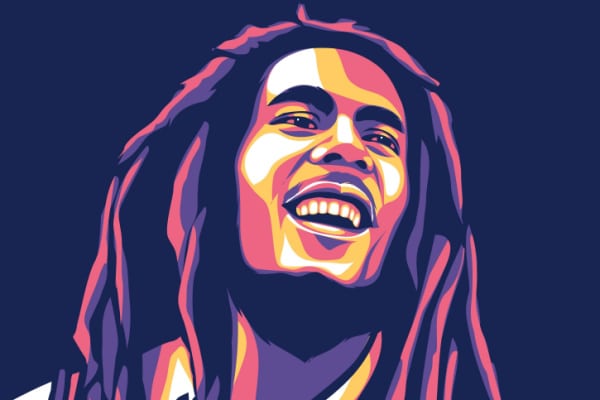 Would you like to listen to the article instead of reading it?
The trailer for the upcoming Bob Marley biopic 'One Love', has been released.
The biopic which hits Irish cinemas on January 12, will explore the reggae legend's early life in Jamaica, along with his onstage performances, and subsequent rise to global stardom.
It will also explore the assasination attempt made on Marley's life, which he survived. He sadly passed away from cancer in 1981 aged 36.
Check out the trailer below.
Bob Marley: One Love will be produced by the music legend's son Ziggy Marley, with Reinaldo Marcus Green directing the project. Green also directed the Oscar winning King Richard.
Bob Marley will be portrayed by Kingley Ben-Adir, with Lashana Lynch starring as his wife, Rita Marley.
The biopic will hit cinemas in Ireland on January 12 next year. Marley is regarded as one of the pioneers of reggae music.
"I hear Bob Marley" – Says Bono
Back in March, U2 lead singer Bono claimed that he could notice traces of Bob Marley in the band's reimagined version of 'Sunday Bloody Sunday'.
The track was part of an album of reimagined tracks, which arrived on St Patrick's Day.
"In Sunday Bloody Sunday… I hear Bob Marley", Bono can be heard saying.
"I don't know how, but he was definitely influencing the lyrics or that's his position, you know, where in the culture, you know, he was singing songs of protest. He was singing songs of faith and devotion".
More on this from Nova here.
News of this biopic comes months after the sad news regarding the death of Bob Marley's grandson Joseph "Jo Mersa" Marley, who passed away aged 31.
His death was confirmed on December 27 of last year.