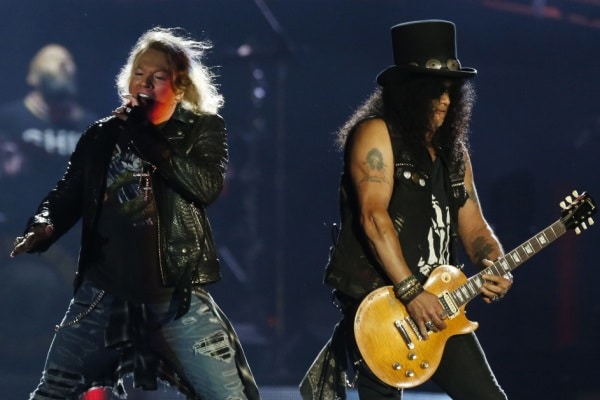 Would you like to listen to the article instead of reading it?
Guns N'Roses' classic hit 'Sweet Child O'Mine' has been voted the Greatest Guitar Anthem.
The track which was released in 1988 from the band's album 'Appetite Of Destruction', came out on top, holding off stiff competition from tracks such as AC/DC's 'Thunderstruck', Pink Floyd's 'Comfortably Numb', and 'Hotel California' from The Eagles.
Other tracks making the list include AC/DC's 'Back In Black', along with Guns N'Roses' 'Paradise City'. 
The list is as follows:
Guns N Roses – 'Sweet Child O' Mine'
Pink Floyd – 'Comfortably Numb'
AC/DC – 'Thunderstruck'
Eagles – 'Hotel California'
Fleetwood Mac – 'The Chain'
Dire Straits – 'Sultans of Swing'
Derek and The Dominos – 'Layla'
Led Zeppelin – 'Whole Lotta Love'
Jimi Hendrix – 'All Along the Watchtower'
Joan Jett – 'I Love Rock and Roll'
Bon Jovi – 'Livin' on A Prayer'
Nirvana – 'Smells Like Teen Spirit'
Prince – 'Purple Rain'
Metallica – 'Enter Sandman'
Queen – 'Another One Bites the Dust'
Blondie – 'One Way or Another'
Deep Purple – 'Smoke on The Water'
Beatles – 'While My Guitar Gently Weeps'
AC/DC – 'Back in Black'
Black Sabbath – 'Paranoid'
Guns N Roses – 'Paradise City'
Bryan Adams – 'Summer of 69'
Foo Fighters – 'Everlong'
Alanis Morissette – 'You Oughta Know'
"take you on a journey"
This voting poll was carried out by Absolute Radio listeners, with presenter Sarah Champion a big fan of 'Sweet Child O'Mine', claiming it "takes you on a journey".
"From the iconic opening bars, you know this is a song which is going to take you on a journey", Champion said. "With Axl Rose's unmistakable vocals added in, Sweet Child O'Mine is an anthem which is a timeless rock classic and a worthy winner of the Greatest Guitar Anthem poll". 
Last year, 'Sweet Child O'Mine' also returned to the  Billboard's Hot Hard Rock Songs Chart, coming in at number 9.
The track returned to the chart, after featuring in the trailer for Thor: Love And Thunder. 
In the week from April 15-21, the track was downloaded 1,600 times, according to Billboard, as well as being streamed 4.7 milllion times in the US. More on this.