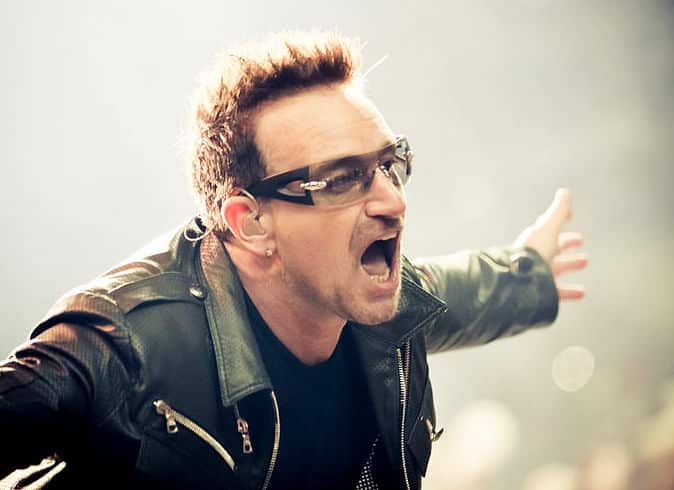 U2 frontman Bono intends to celebrate his 60th birthday today (Sunday May 10) during the Covid-19 restrictions with a long walk.
Speaking to RTÉ, he said: "I was going to have a quiet birthday anyway… just go for a long walk, that was the plan, a bit of a pilgrimage with the family. There are people giving up a lot more than their birthdays, think of people cancelling their weddings, funerals, think about that. I am grateful to just have got here, I am really grateful to the people who got me to where I am, to the band, my mates and the country who gave U2 a great life who allowed us to be useful in this time."
Bono recently released "Let Your Love Be Known", a tribute to Italians fighting the pandemic, and collaborated with Jennifer Hudson and other stars to release "Sing4Life", an ode to social distancing.
Born Paul David Hewson in Dublin on May 10, 1960, Bono was nominated for the Nobel Peace Prize in 2003 for his successful efforts to relieve third world debt and promote AIDS awareness in Africa. Time Magazine named him Person of the Year in 2005 and Queen Elizabeth II knighted him in 2007, recognition of his philanthropy in both cases.
Bono has been the lead singer of U2 since his high school days. The band's sixth album, The Joshua Tree, made them international stars. U2 has since released 14 studio albums and 436 songs, according to Wikipedia.
The singer himself revealed to RTÉ that he has been compiling a quarantine playlist during the Covid-19 restrictions.
"I have a top 40 of favourite Irish songs at the moment. There's everything from Fontaine D.C., going back to the great Shane MacGowan, Van Morrison, Thin Lizzy, Damien Rice, Glen Hansard." 
The playlist also features songs from his son's band, Inhaler, Dermot Kennedy, The Blades, Picture This, Inhaler and cult Irish hip-hop crew Scary Éire.
Bono's Full Irish playlist:
Horslips – Dearg Doom 
Van Morrison – Gloria
Gilbert O'Sullivan – Get Down
Thin Lizzy – Dancing in the Moonlight
The Undertones – Teenage Kicks
Stiff Little Fingers – Alternative Ulster
The Boomtown Rats – Neon Heart
The Radiators – Songs of the Faithful Departed
The Blades – Downmarket
Sinead O'Connor – Nothing Compares 2U
Virgin Prunes- Caucasian Walk
The Golden Horde – Friends In Time
Ash – Shining Light
Aslan – This Is (Live at Vicar Street 1999)
Something Happens – Hello Hello Hello Hello Hello
The Pogues – A Rainy Night in Soho
Clannad – Theme from Harry's Game
Christy Moore – North and South of the River
The Dubliners – Springhill Mining Disaster
The Cranberries – Linger
Republic of Loose – Comeback Girl
Glen Hansard & Market Irglova – Falling Slowly
Hothouse Flowers – Love Don't Work This Way
Andrea Corr – Time Enough for Tears
Damien Rice – I Don't Want to Change You
Hozier – Take Me to Church
Dermot Kennedy – Outnumbered
Snow Patrol – Run
SOAK – Everybody Loves You
Sorcha Richardson – Ruin Your Night
Fontaines D.C. – Boys In The Better Land
The Murder Capital – More Is Less
Inhaler – It Won't Always Be Like This
Imelda May – Black Tears
Picture This – Take My Hand
Scary Éire – The Dole Q
Elma Orkestra & Ryan Vail – Am I Sad?
Jacknife Lee – I'm Getting Tired with Beth Ditto and Earl St. Clear
St Francis Hotel feat Waterstrider – We Fall Together (We Fall Apart)
Paul Brady – The Island
Meanwhile The African Well Fund (AWF) is inviting U2 fans from around the world to donate funds in honor of the musician's 60th birthday. The funds raised will be used to build a new well serving 2500 in Nsiama, a village located in western DRC where there is currently no potable water. AWF hopes to raise $20,000 to build a solar powered well to serve the community.
Until May 31, fans may donate through the AWF website by clicking here and all donors are invited to add their name and a message to a birthday card that will be sent to Bono upon completion of the fundraiser.
Since 2003, more than $280,000 has been raised in Bono's honor to fund the construction of clean water and sanitation projects that are benefiting more than 86,000 people in Angola, Benin, Burkina Faso, Liberia, Mali, Senegal, Tanzania, Uganda and Zimbabwe.