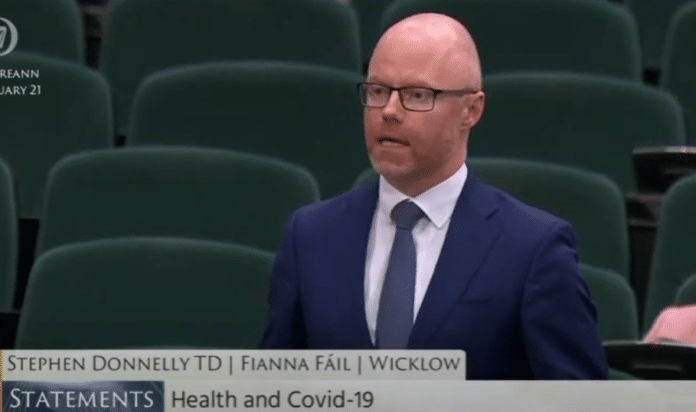 Minister for Health, Stephen Donnelly has confirmed that Cabinet has signed off, on an agreement allowing pharmacists and doctors to administer the Covid-19 vaccine. This agreement will see a payment of €60 made for each person vaccinated by members of the Irish Pharmacy Union and Irish Medical Organisation.
This will cover both jabs given to the patient. The state are to pump €91 million for the jabs to be administered to 1.5 million people.
It will cost €35 for single dose vaccines.
It is expected to run for a 6 month period, with a review.
Doctors and pharmacists are expected to administer the AstraZeneca Vaccine. This vaccine does not require to be kept at such low temperatures. 
"Very keen"
Minister Donnelly has hailed this aggreement as "great progress" made in the fight against Covid-19.
The Health Minister said, "There's been great progress made. In the last hour or two the Cabinet signed off the deal with the GPs and the Pharmacists".
Mr Donnelly continued, "It's believed that this group will do about half of all of the vaccinations this year, so there a really really important group".
"They're very keen to get involved. You'll have seen over the weekend on Saturday there were three mass vaccination centres set up for the GPs, about 1,800 GPs and practice nurses done, fantastic work by the National Ambulance Service on that".
"Our targets are going well, we're still on target to hit 140,000 b ythis Sunday, in spite of us getting an unanticipated 50 per cent reduction in our Pfizer BioNTech delivery this week". 
Stephen Donnelly explained that we are getting "consolidated figures" twice a week due to a "lag" in te data. He hopes that that will change to daily updates.
The minister said, "All of that will will come. Remember we are in week three, the absolute focus has to be on getting as many people vaccinated as possible.
He assured that Ireland is progressing well on the European charts. "That's why if you look at the European charts we're doing very very well in the EU27 in terms of the number of people we're vaccinating a day".
He commented further, "Really my priority and the task-force and the HSEs priority has been get into the nursing homes, get the residents and the staff vaccinated. And then get our frontline healthcare workers vaccinated". 
Donnelly "94,000 vaccinated"
The minister for health also said that as of Sunday, 94,000 vaccines were administered. He stated that 71,000 of those jabs were given to frontline healthcare workers. While, the remaining 23,000 were given to long-term care home residents.
Donnelly also said that around "1.9%" of the population have been vaccinated. He added that "we are on track for 140,000 doses to be administered by next Sunday".