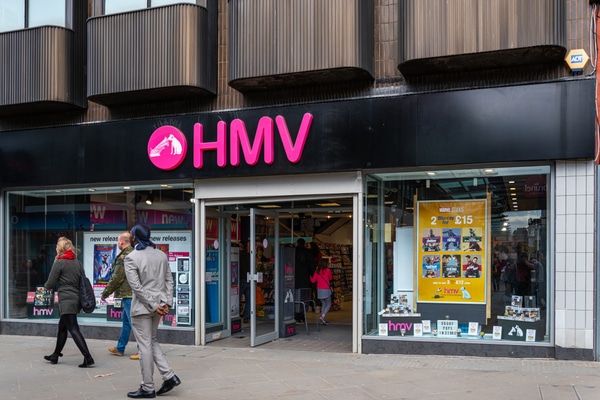 British record store chain HMV is celebrating a century of business today.
On July 20th, 1921, the first HMV store was opened on London's Oxford Street in a building that was previously occupied by a men's clothing store. The store was owned by The Gramophone Company, a record label that featured a distinctive replica of Francis Barraud's painting His Master's Voice on the inner label of their discs. The painting, which features a dog named Nipper listening intently to a gramophone, instantly became one of the most recognisable logos in pop culture.
The opening of the store featured an appearance by legendary English composer Edward Elgar, the first of many in-store concerts over the next 100 years.
Originally the store didn't just sell records, they also pressed them in-store. The Beatles pressed their demo recordings at the Oxford Street store, which subsequently brought them to the attention of George Martin. They would sign their first recording contract in front of a portrait of Nipper.
By the 1970s HMV had branched out with stores across the UK and would expand globally over the following decades.
In 1986, the Oxford Street store moved from number 363 to a larger premises at number 150, becoming the largest record store in the world at the time. A blue plaque now marks the site of the original store at 363.
The same year, HMV opened its first Irish store on Grafton Street. A second store on Henry Street soon followed, with Cork and Limerick getting their own stores in the following years.
The rise of music streaming, combined with the effects of the 2008 financial crisis, had a negative impact on HMV's operations, particularly in Ireland. In 2011 HMV Ireland's profits fell by a devastating 90%, down to €465,000, compared to €4.1 million in 2010. By 2016 all of HMV's Irish branches had closed, with over 300 jobs lost.
In 2013 HMV went into administration, owing £20 million worth of taxes to the UK government. The chain was saved when it was acquired by Hilco UK the same year. Things seemed to be going well for HMV, which beat Amazon in 2015 to become the UK's biggest retailer of physical music media. But in 2018 it was once again placed into administration before being bought by Canadian record store chain Sunrise Records.
Fuelled largely by the recent revival of interest in vinyl, HMV appears to be turning around its flagging fortunes once again. The chain took advantage of today's milestone to announce that it plans to open 10 new stores across the UK this year.
"I'm still very optimistic on the business and business as a whole on the High Street," said the chain's owner, Canadian businessman Doug Putnam. "I still think the High Street is just something so special."
Whether Nipper makes a return to Ireland remains to be seen.